Michael Douglas' Former Fiancée Found Murdered In Aspen, Couple Renting Her Home Arrested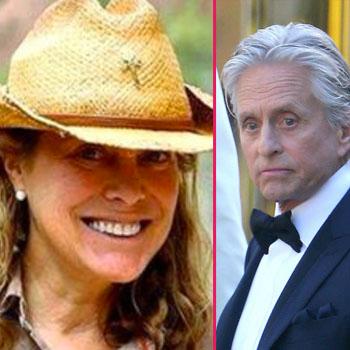 A 57-year-old woman was found murdered in her Aspen, Co. home last week and it's been revealed that she was previously engaged to actor Michael Douglas, RadarOnline.com is reporting.
Nancy Pfister was found on Feb. 26 — just days after returning from a trip to Australia — and tenants renting out her home while she was away; William Francis Styler II, 65, and his wife Nancy Styler, 62, were arrested on Monday on suspicion of murder.
Article continues below advertisement
Pfister was a well-known and well-liked member of the community in the small ski town and in her younger years "hung out with the Kennedys, Jack Nicholson, Cher, Michael Douglas," Page Six reported, adding that she was briefly engaged to Douglas at one point.
Pfister's daughter, Juliana told ABC News, "How could someone just be so angry that they got kicked out of a house? There's got to be something more. It's hard to understand that."
The first-degree murder suspects, William and Nancy, appeared in a Pitkin County District Court on Tuesday and a judge ruled that they continue to be held without bond.
The couple's mug shots can be seen below:
MORE ON:
Celebrity Justice
Pfister had been on an extended trip to Australia, renting her home to the Stylers, but returned early because of a dispute with them.
"I'd like to stay in Australia but the people that were supposedly taking care of my house are not doing what they said they would do and they're not paying rent and they haven't paid utilities," Pfister wrote on her Facebook page in January.
Article continues below advertisement
"I have no idea how someone could do something like that and especially to her and I think that, you know, my mom could never hurt anything or hurt anyone and that is one thing that everyone that knew her knew," Juliana added. "She cared about a lot of people and helped the wrong people this time."
The Stylers had allegedly fell behind on their payments to Pfister, and were simultaneously fighting to collect $800,000 they claim an attorney overcharged them.
The attorney, John Powell, ended up filing for bankruptcy which allowed his debt to the Stylers to be erased.
"This case has been hard from the beginning on all of us, because of the nature of it," Sheriff Joe DiSalvo said.
"First-degree murders don't happen here too often. That's good. When they do, we take it very seriously, and we storm it. We throw everything we've got at it."
Pfister's murder is the first in Pitkin County since 2001.
William and Nancy are scheduled to next appear in court on March 17.