Exclusive
Wedding Revolt: Beyoncé Doesn't Want To Attend Kim Kardashian & Kanye West's Nuptials Because She Doesn't Want To Appear On 'Keeping Up With The Kardashians'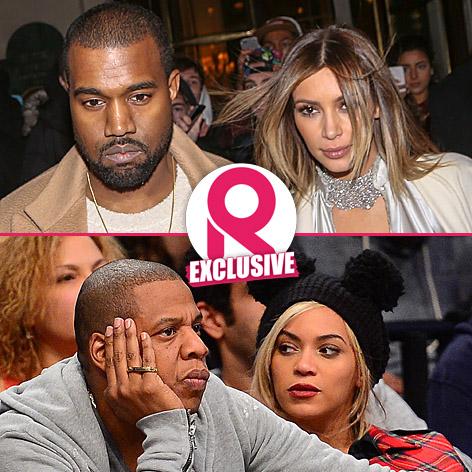 Forget diamonds, Kim is NOT this girl's best friend.
Superstar singer Beyoncé is telling pals she doesn't want to attend Kim Kardashian and Kanye West's much-hyped wedding because she thinks it's extremely tacky that the nuptials are going to be filmed for E!'s Keeping Up With The Kardashians, RadarOnline.com has been told.
The 17-time Grammy Award-winner has told husband Jay Z and his best pal, Kanye, that "under no circumstances will she be a part of any filming on the wedding day if it's for Kim's reality show," a source close to the situation revealed.
Article continues below advertisement
Celebs Who Have Slammed The Kardashians
"Jay and Beyoncé's wedding was shrouded in secrecy and extreme lengths were made to make sure their wedding was an intimate affair for friends and family, only. This will be the complete opposite. She thinks it's just tacky.
"Beyoncé's motto has always been, less is more. But clearly when it comes to Kim, more means more.
"She knows she'll have to go to the wedding, but really does not to want to."
The insider said the only reason the pop diva, 32, will attend the I Do's in Paris on May 24 is because West "considers them family."
"Make no mistake, the only reason Beyoncé is going to the wedding is because Jay is best friend's with Kanye," the spy said.
As RadarOnline.com reported, Jay Z and Beyonce will be excluded from West and Kardashian's plans to force guests to sign strict confidentiality agreements during which they'll agree not to discuss any details of the nuptials with the media.
A source said: "There is no way Kanye would ever even dare to ask Jay or Beyonce to sign a non-disclosure agreement, or take away their cell phones. He knows that neither one of them would betray his trust."