Exclusive
Kourtney & Khloe Kardashian Are Taking The Hamptons: Locals Reject New Reality TV Spin-Off Invading Their Community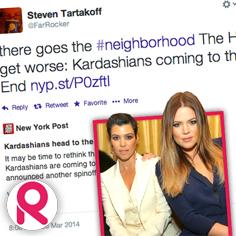 The Kardashians aren't going anywhere any time soon.
Sisters Kourtney and Khloe Kardashian have just signed on with the E! Network for a spinoff that will take them to the Hamptons — and it seems the locals aren't happy about it!
The new series, Kourtney and Khloe Take The Hamptons will feature the sisters temporarily relocating to the legendary Long Island enclave where they will open a pop-up Dash clothing store, as they did for previous spin-offs in New York and Miami.
Article continues below advertisement
Deputy Editor Nicole Barylski and Executive Editor & Publisher Nicole B. Brewer of the area's leading local website, Hamptons.com, exclusively tell RadarOnline.com that having the Kardashians in the Hamptons isn't something locals can plan for, but it will likely affect their economy.
"Having the Kardashian family spotted out and about in the Hamptons is not new news. They also aren't the first reality stars to film out here. We've had theReal Housewives franchise film out here for years," they said in a joint statement.
"The fact that they're going to put down roots out here is a big deal because it's going to impact the economy somehow. People will either decide to avoid the Kardashian store completely, which could affect the surrounding stores or on the flip side you could have the place so completely and utterly mobbed that hopefully the businesses around it will benefit from the overflow."
The public was less forgiving to the first family of reality TV on Twitter:
MORE ON:
Keeping Up With the Kardashians
"Filming when it happens will most likely bring a lot of attention to the locations, but seeing as though the spots won't be known in advance you can't plan for it or around it," Hamptons.com told RadarOnline.com in the statement.
"You just have to deal with it when it happens."
Celebs Who Have Slammed The Kardashians
The show is slated to air in the Fall of 2014.
Will you watch Kourtney and Khloe Take The Hamptons — and how would you feel if they laid down roots in your hometown? Sound off in the comment section below…