Exclusive
More Kardashian Fakery EXPOSED! Kourtney & Scott Disick's TV House Is NOT Their Real Home Either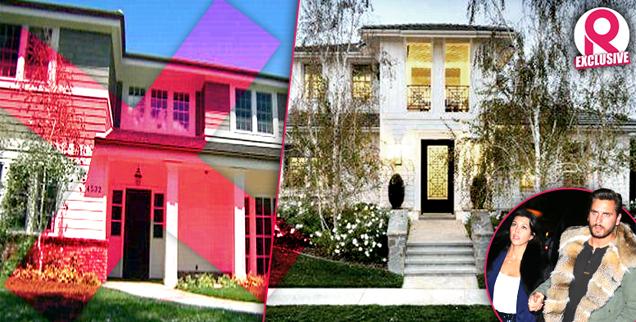 Article continues below advertisement
Before buying Keyshawn Johnson's Calabasas home earlier this year, the couple lived in a traditional East Coast-style mansion at 25435 Prado de Las Peras, which they purchased in December 2010. The 5,400 square-foot pad featured a dramatic black front door with graphic window panes, as well as a grand entryway staircase, balconies on the facade, and extensive bushes with white flowers. The front yard, however, was limited.
Scenes of their "house" on the show, however, featured a home with the entirely different address number 4532, featuring a sprawling lawn, limited landscaping, and classic square white windowpanes very different from the graphic designs on the windows of their real house.
Who knows what they'll show next season, since Kourtney and Disick recently put their home of three years on the market, reportedly to purchase NFL star Johnson's home in Justin Bieber's old neighborhood.
Article continues below advertisement
The Craziest & Most Outrageous Celebrity Rumors — What's True, What's Not?
Kim has said that the family chose to use exteriors of random homes for security reasons, insisting, My old home in Beverly Hills was really my home and I would get people showing up at all hours, ringing my gate and had to call the police on several occasions. It was so unsafe … After that we realized how unsafe it is to show the exteriors of our homes."
Do you buy her excuse or do you feel duped? Let us know in the comments!