Exclusive
Candace Cameron Bure Predicts 'DWTS' Will Be A Battle Of The 90s Sitcom Stars: Winnie Cooper vs. DJ Tanner!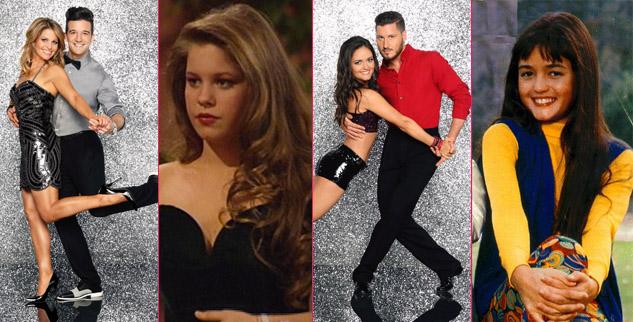 Article continues below advertisement
"I haven't seen anybody dance yet but I think if you're looking at it from a dancing view, Meryl and Charlie are everyone's biggest competition," Cameron Bure said.
"But from a fan point of view my competition is Danica McKellar — It's like, who do I vote for; Winnie Cooper or DJ Tanner?! Vote for both!"
Besides both starring on hit comedy sitcoms in the 80s and 90s, Cameron Bure, 37, and McKellar, 39, go way back.
"We did a TV movie together called Camp Cucamonga so we've known each other a long time and we're friends," the mother of three told Radar.
HOTOS: Mary Kate Olsen Shows Off Makeup-Free Face At The Airport
"So on a personal level we're not in competition, we're just two moms having fun."
And while DWTS rehearsals tend to take over one's life, Cameron Bure says they're only at four hours per day right now, which still gives her time with her kids; Natasha, 15, Lev, 14, and Maksim, 12, and husband Valeri Bure.
Article continues below advertisement
"It's not too bad yet because our practices are limited to four hours a day. I practice in the morning and then I come home and I have to pick up the kids from school and do all the mom stuff I do on a typical day," she said, noting that her pro partner, Mark Ballas, seems to think she'll pick up the two-step dances quickly but may struggle more with the ChaCha and Salsa dances.
"I'm so focused on the dance we're doing now, which is contemporary. I wasn't expecting to start with contemporary but I'm really enjoying it! I have no dance experience whatsoever. Zero! So I've watched the show and the dances, but I don't know once I try physically, what my body will embrace and what it won't."
But before Cameron Bure delves into the world of dance, she's already established herself as an author who just released her second book in January, Balancing It All, a cheery guide to juggling work, family, faith and other responsibilities. Her first book,Reshaping It All was a 'faith-based weight-loss' book that reached #13 on the New York Times list.
Catch Cameron Bure, McKellar, and all the others on the Dancing With The Stars premiere on ABC on Monday, March 17.
For now, we have to ask — Team DJ Tanner or Team Winnie Cooper? Sound off in the comments below…