Exclusive
Another Real Housewives Legal Drama! Miami Housewife Alexia Echevarria Sues Over A Car Accident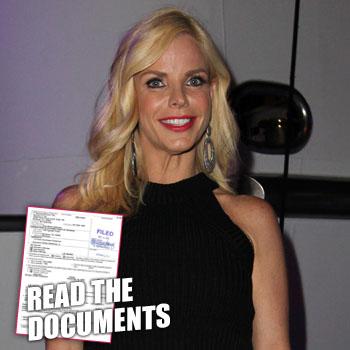 The Real Housewives of Miami star Alexia Echevarria is suing her car insurance company after it allegedly refused to pay her full bill for treatment following a 2010 car accident, RadarOnline.com has exclusively learned.
In legal documents in which Echevarria and Mount Sinai Medical Center in Florida filed suit against Infinity Auto Insurance and obtained by Radar, the Bravolebrity claimed she was injured in the accident.
Article continues below advertisement
Mount Sinai alleged they treated her for the injuries and the medical bill for their services came out to $2,928.38.
The hospital said they provided a copy of the bill to Infinity multiple times. However, the insurance company has refused to pay the full amount owed for Echevarria's treatment.
According to the documents, the insurance company owes them close to $600 plus interest for Alexia.
However, the hospital has fired back, claiming Alexia's policy only covered 80 percent of 75 percent of hospital bills. Mount Sinai has asked for the suit to be dismissed.
A judge has yet to rule in the case.
As RHOM fans know, it's not the first time Alexia, 46, has been involved in a car accident case: Last year, she sued her insurance company Garcia Lorenzo & Associates for $2 million, claiming they dropped the ball when it came to executing her insurance policy.
After Alexia was hit with massive medical bills following her then 13-year-old son Frankie's injuries in a 2011 car accident, she said she was left holding the bag due to Garcia Lorenzo & Associates' shoddy coverage.