NeNe Leakes Slams 'Opportunist' Marlo Hampton: I Supported Her Even When No One Wanted Her Around!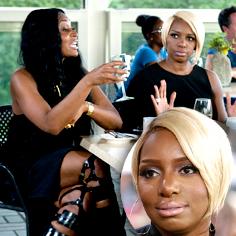 In the wake of a violent new feud, NeNe Leakes has slammed her former BFF and bridesmaid Marlo Hampton for turning her back on her.
"I supported Marlo and helped her unselfishly when nobody wanted her around! I will repeat: NOBODY!" NeNe ranted on her official blog.
During Sunday's edition of The Real Housewives of Atlanta, Marlo was apparently looking for a fight, hurling a water bottle at her former BFF. To the surprise of many viewers, NeNe chose not to retaliate and walked away.
Article continues below advertisement
"My son was at this event and as much as I would like to take my shoe off and hit somebody or drag someone down the street, I would never stoop so low to the gutter with my son around. I know how to respect myself enough to walk away," NeNe wrote.
"Everyone that knows me knows that I am a loyal friend and I expect the same in return. In friendship you have to give and take! If I give, that doesn't mean all you get to do is take!"
Looking back on their friendship, the former Glee actress believes Marlo was just looking for fame – and that's why she became BFFs with her frenemy Kenya Moore.
Faked Scenes, Lies & Payoffs – The Ultimate Guide To Reality TV Shows
"I want nothing to do with either of them… So called 'friends' that fraternize with the enemy is an opportunist in my opinion. They smile in your face but they're looking to take your place.
"At the Bailey Bowl, Marlo showed me her street side that everyone talks about! Yes you can put lipstick on a pig but it is still a pig!" NeNe jested.