Exclusive
'RHOA' Scandal: Secret Criminal Past Of NeNe Leakes' Pal Marlo Hampton Revealed — See Her 7 Mug Shots!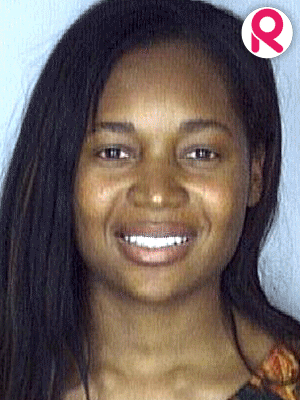 Marlo Hampton's violent ways took center stage on Sunday night's episode of the Real Housewives of Atlanta and RadarOnline.com has exclusively discovered that NeNe Leakes' former BFF has quite a criminal track record – she has been arrested at least seven times!
According to court records obtained by Radar, Hampton was arrested on May 26, 1999 – at age 23 -- for "Aggravated Battery/Great Bodily Harm," which is a first-degree felony.
Article continues below advertisement
Leakes hinted at the charges in her latest blog, claiming Hampton "slashed a friends face with a knife and disfigured her over a man."
Hampton was released later the same day on $5,000 bond.
In her defense, Hampton has spoke of the incident in Jan. saying, "I am shocked and saddened to hear of the recent distortions of events and false accusations disseminated over an altercation I was involved in over a dozen years ago… I was in my early twenties, and what took place started out as an argument with someone who was once my friend, over the phone."
"As disturbing as the carrying of a weapon may seem, it was quite common in the environment in which I was raised, and not only I, but also the person involved in the altercation, had each brought weapons to protect ourselves," she continued.
"There was a confrontation, her knife dropped, mine did not."
On Sept. 28, 1999, Hampton began to serve time for her aggravated battery felony conviction. Online records show she served four months in jail and was released on Jan. 28, 2000.
Article continues below advertisement
Faked Scenes, Lies & Payoffs – The Ultimate Guide To Reality TV Shows
The case would come back to haunt Hampton though – leading to four parole violation arrests over the next several years. Online records didn't list the specific violation of her parole, but she was arrested on June 19, 2000 and served 111 days in jail.
Then, on Valentine's Day in 2001, Hampton was arrested again and served six days in jail for violating her parole.
MORE ON:
Celebrity Justice
Her criminal antics didn't stop there. A warrant was out for her arrest for "Obtaining Property or Services in Return for Worthless Checks, Drafts, or Debit Card Orders (under $150)." She was arrested on Sept. 9, 2002 and released on $1,000 bond the following day.
A few months later on Dec. 4, 2002, Hampton was picked up and charged with "possession of a firearm," which is against the law for a convicted felon. She was released from jail after nine days.
Article continues below advertisement
The "Aggravated Battery/Great Bodily Harm" charges continued to follow her, and another parole violation landed Hampton back in jail on July 28, 2003. There are no details available about the specific violation, but court documents reveal she was released 30 days later on August 27, 2003.
As RHOA viewers saw on Sunday, Hampton was looking for a fight and hurled a water bottle at Leakes, who refused to retaliate.
"Marlo showed me her street side that everyone talks about!" Leakes wrote, alluding to her former BFF's criminal past.
"Yes you can put lipstick on a pig but it is still a pig!"