'RHONJ' Custody Battle: Amber Marchese's Husband Accuses Ex-Wife Of Trying To Have Son 'Falsely Diagnosed With Autism' In Explosive Court Documents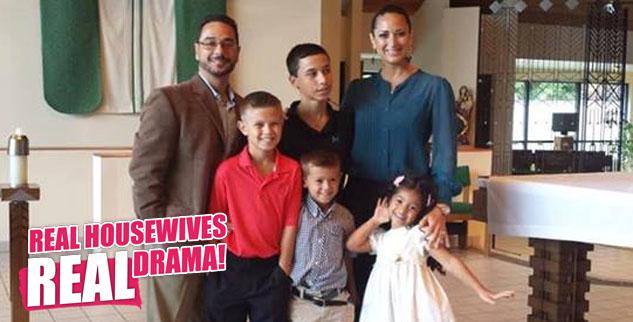 One of the most bitter feuds involving a Real Houewives of New Jersey cast member has already played out off-screen.
In 2012, RadarOnline.com has learned, new castmate Amber Marchese's husband James accused his ex-wife of trying to have one of their sons falsely diagnosed with autism during their nasty custody fight.
Listen! 'RHOP' star Wendy Osefo breaks down the "most intense fight in the show's history" in under 2 minutes.
Article continues below advertisement
James divorced ex-wife Rebecca Grande in 2004, but went to court in Monmouth, NJ either years later in an attempt to gain full custom of their sons.
In the blistering court documents, he claimed that Grande had "a lack of moral and ethical character, which was necessary to raise teenage boys" before going on to list several other reasons why he believed she wasn't fit to have sole custody.
GALLERY: The Giudice's 30 Most Shocking Quotes About Fraud & Finances
"The defendant (1) was being evicted for the second time; (2) had tried to have one of their sons falsely diagnosed with autism; (3) failed to provide him with ongoing medical and educational information on the children; (4) tried to have plaintiff put in jail for violating a final restraining order; and (5) had pled guilty to a second-degree felony that would likely result in jail time," the documents alleged.
Article continues below advertisement
The judge denied both motions, finding twice that James presented no proof of changed circumstances that would warrant a change in custody.
The documents read, "Plaintiff (James) merely makes conclusory assertions that defendant (Grande) is unfit because of her conviction and that the conviction must have affected the children. This is not enough. Indeed, evidence in the record shows that the boys are succeeding in school, earning awards, and otherwise thriving."
The judge also noted that, contrary to James' original claim, Grande's housing was not in jeopardy.
As RadarOnline.com previously reported, Amber and her husband James will appear as the newest castmates on Bravo's upcoming season of Real Housewives of New Jersey.