Aaron Hernandez Discussed Killing In Calls From Jail, Prosecutors Claim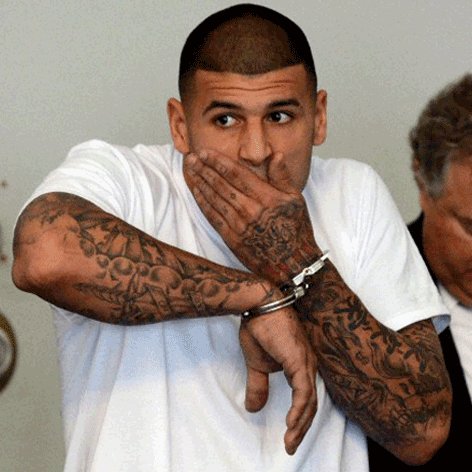 Aaron Hernandez used "coded messages" to discuss murdering Odin Lloyd, prosecutors claimed in new court papers filed on Friday.
The former New England Patriots star stands accused of first-degree murder and weapons charges in the shocking death of his friend Lloyd.
In phone calls from jail, Hernandez discussed "matters directly relevant to the circumstances surrounding the murder of Odin Lloyd; viz: the defendant's subjective belief about his criminal liability; his use of coded messages to communicate with persons outside of jail; related prior offenses; inculpatory denials of ownership of a vehicle connected with the investigation; the extent of his control over persons charged as accessories; other matters relating to his codefendants, including their whereabouts and likely criminal liability.," Bristol (Mass.) Assistant D.A. Roger L Michel wrote in his request for tapes of the defendant's jailhouse calls and visitor records, reports CNN .
Article continues below advertisement
Hernandez has pleaded not guilty in the case.