Exclusive
Ryan Seacrest Considering Pal Meghan McCain To Star In Kardashian-Style Reality TV Show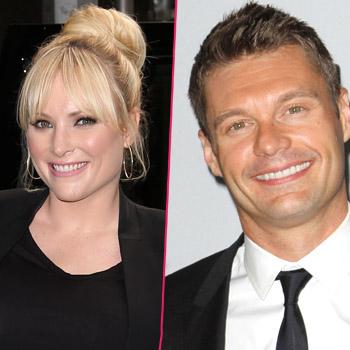 It's one of Hollywood's lesser known friendships, but Ryan Seacrest has become close with Sen. John McCain's daughter, Meghan McCain, and RadarOnline.com has exclusively learned he's considering putting her on a reality TV show.
Seacrest has been slowly introducing Meghan to some of Hollywood's biggest and most influential players and hopes the columnist will agree to a show with him in return, an insider says.
Article continues below advertisement
"Ryan has been bugging Meghan about doing a Kardashian-style reality show for a while," the source told Radar, noting that it would be something similar to The Hills, but with politics.
Of course, Seacrest would also like to focus on her famous (and uptight) parents.
"If Meghan's dad said okay, she would do it in a heartbeat because the money is great and Ryan isn't about making people look bad. Right now she loves having him as a friend, but she has not said yes to doing a show with him yet," the source revealed.
"He wants to and he wants to do it now, though. Ryan and Meghan have been friends since she appeared on his show during the last election cycle five years ago, and he genuinely likes her. But Ryan is the kind of guy who takes every friendship he has and tries to make a buck off it, so we'll see if he can turn this into some cash."
After the success of Keeping Up With The Kardashians, which Seacrest produces, he's also been eyeing Jessica Alba and hubby Cash Warren.
Article continues below advertisement
"Cash is trying to get his own reality projects going and has been mentored by Ryan a bit, but as far as them doing their own show, the stumbling block is Jessica, who's got too much on her plate right now," the source added.
"Her team is against it too and believe reality shows are for 'has beens.' This has certainly caused more strife in their rocky marriage and Cash is begging Ryan to intervene. He really wants to do this, as does Ryan, but Jessica's standing firm."
Would you rather see Meghan, or Jessica and Cash on a reality TV show? Sound off below…