Burn! Paula Abdul Sues Weight Loss Body Wrap Company After Suffering 'Significant Burn' On Her Inner Thigh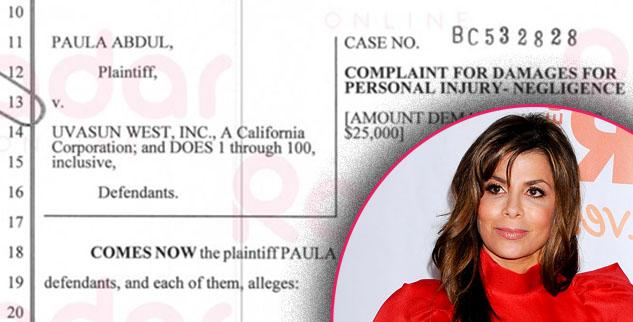 Former American Idol judge Paula Abdul is suing UVASUN West for personal injury, after alleging she was burned all over her body, including a significant burn on her inner thigh, after receiving a weight loss body wrap and then going into a tanning bed, RadarOnline.com is reporting.
According to the court documents, on Jan. 12, 2012 the pint sized pop star went to UVASUN for a SlimStar infrared body treatment. The weight loss body wrap claims individuals can burn up to a whopping 1200 calories in a 50 minute session.
Article continues below advertisement
The company website describes the treatment as "a highly effective weight control, inch loss, pain management, detoxification system that is fast, easy, and effective. It uses infrared heat that penetrates twice as deep as other heat sources to target toxins and cellulite trapped in pockets below the surface of the skin. The secret of the SlimStar system is the way that the deep heat therapy activates the function of natural enzymes and metabolism within the tissues.
"You may burn 1200 or more calories in just one 50-minute session and potentially see and feel results from your very first session, and the inch loss from infrared treatments are permanent -- unlike many of the generic body wraps you may have used."
Abdul claims because of the negligence and carelessness, she has lost work and required extensive follow-up care from doctors and surgeons.
"Paula Abdul will lose additional income in the future and lose additional time in the future at plaintiff's occupation and profession," the documents state.
"Plaintiff has also sustained an impairment of earning capacity, adding to plaintiff's further loss in an amount not known at this time."
The lawsuit seeks general damages, medical and health care expenses.