Move Over Kim! Lea Michele Flaunts Her Butt In Sexy Thong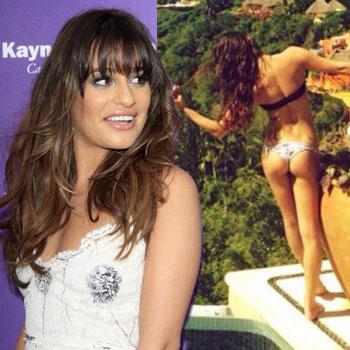 Who knew? Lea Michele apparently wants EVERYONE to know she has the sexiest butt in Hollywood.
Do you see that, Kim Kardashian?
The Glee star tweeted a pic, taken from behind -- of her behind! -- in a tiny thong bikini.
"What an amazing week in Mexico... ?? New day. New year," Michele wrote along with the photo.
Michele is celebrating the positive reviews she received for her new single, Battlefield -- Rolling Stone called it "heartbreaking" -- from her upcoming album, Louder.
Article continues below advertisement
The singer/actor has come a long way since the death on her on and off-screen boyfriend, Cory Monteith, who died from an accidental drug overdose in July.
And while relaxing on the beach in Mexico, she also thanked her fans for all their support in helping her get through that dark time.