Move Over Kim Kardashian! There's No Butts About It… This Instagram Sensation Has The World's Most Shapely Derriere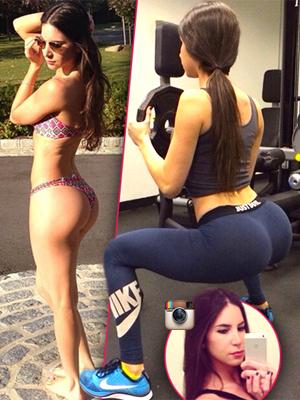 Kim Kardashian no longer has the most famous butt: There is a new girl in town whose derriere has more than a million people talking!
Meet 20-year-old New York resident Jen Selter, who has swept social media by storm with her endless selfies of her hot bod and big butt.
Jen has become such an Internet sensation that she now has nearly 1.4 million Instagram followers — all because she posts selfies of her body and her workout routines.
Article continues below advertisement
"I'm recognized wherever I am," Selter -- who is followed by the likes of Rihanna and Amar'e Stoudemire -- told the New York Post.
"I don't really go to public gyms anymore just because it is a whole big scene when I'm there."
Selter, who never went to college, attributed her success to the body shots that she shares online.
"I don't really post a lot of face pictures," she added. "I mainly do body selfies. Not that I care what people think, but they don't care. They don't want to see my face."
Selter joined Instagram in March 2012 and has since graced her fans with hundreds of selfies, some of which show her in skimpy workout clothes and underwear. But she maintained that she will "never post a raunchy pic."
"There's a difference between a porn-site picture and gym wear or bikini wear," she said. "Everything's usually yoga pants."
She added, "Yes, it can be showy, but I've seen a lot worse. And if it motivates people to get their butts up and go to the gym, why not?"
Article continues below advertisement
Selter, who stopped her day job at a gym after she reached 500,000 followers on Instagram, has become so wildly popular that she now she has scored deals with water company NY20 and a nutrition supplement company called Game Plan Nutrition.
"I see myself motivating and inspiring everyone around the world," Selter said. "It's cool seeing your body transform. That's what motivates me."
But what does Selter have to say to her critics that wonder if her butt is real?
"I've seen fake butts, and they're very nice," she said. "They look nothing like mine. I see it as a compliment."
Selter said that she has never gotten plastic surgery except for a nose job as a teenager.
"My body's all real… from boobs down," Selter, who can be found on Instagram @jenselter said. "With hard work and dedication, anyone can get to where I am."