Heidi Montag On Her 10 Plastic Surgeries: 'I Felt Really Insecure' After Doctor Pointed Out 'Everything That Was Wrong With Me'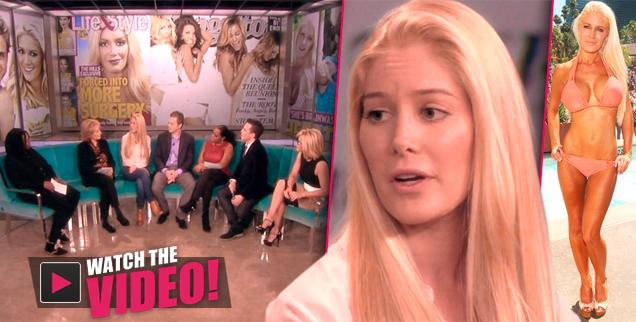 Article continues below advertisement
"I really just went back in to get my nose reset and get a little bit larger of implants because I had been elbowed by a backup dancer in a music video that I was doing and then I went in and was talking to my doctor and he just kind of diagnosed me and was like, 'You should get a chin reduction, and an eyebrow lift,' Montag told host Barbara Walters.
"I didn't know what an eyebrow lift and a chin reduction was! So once he kind of told me everything that was wrong with me I felt really insecure, and he gave me a really great deal on it all. He didn't tell me how extensive it was going to be, how severe, how painful, so I had no idea."
In 2010, Montag, 27, had the following procedures done:
-brow lift
-nose job
-ears pinned
-chin shaved
-two breast enlargements
-back scooped out
-fat injected into her cheekbones
-lipo on her inner and outer thighs
It was during the heyday of their fame on MTV's The Hills, which is long gone for the famous couple who now admit they blew through nearly $10 million.
"A majority of it is gone. There's agents, lawyers, managers, taxes, hair and makeup," Montag said.
"The private jets, the million dollar wardrobe," Pratt added.
radar_embed service=5min.com src="http://pshared.5min.com/Scripts/PlayerSeed.js?sid=1126&width=570&height=351&playList=518098905&sequential=1&shuffle=0"
Article continues below advertisement
And after gracing the cover of nearly every tabloid magazine at one point, the two disappeared for a short time.
Hollywood Plastic Surgeons Tell All: 42 Stars Who've Had Lipo, Face Lifts & Tummy Tucks
"It just kind of caught up with us, and it was a lot and it was really overwhelming," Montag said.
"I think we just needed to reevaluate and reground our lives and our values, and be like what is the future we want for ourselves and I think our real values are our families and our relationships and each other and I think we just needed to step back and realize that."
"I just went back to college," Pratt noted. "So I just finished college like three weeks ago, I just graduated USC. I had to get my degree to show the job applicants."
So while they're no longer a household name, Montag says they live a very humble life and are working towards careers — off the television screen.
"We just live really humble lives. I cook a lot, I clean our house all the time," she said.
Article continues below advertisement
"That's the goal now, is getting a real career. That's why I needed to get my Political Science degree so people would at least take me a little serious," Pratt said.
"My love is entertainment in television, but behind the camera, I started out in producing… I'd definitely love to make more television where I'm not on camera."
As for his bad-boy persona on The Hills, Pratt doesn't blame the producers, but explains that they fueled it.
"The way they would frame it is, 'This is what we're thinking would be great scene for you guys,' and if we were like, no, no, they were like 'Oh, then we don't know where you're going to fit in this episode,' and then we're not gonna get paid," he said.
The couple wants kids, and aren't opposed to having their family on a reality TV show, but their priority is making money first.
"First our priority is really getting a career and being stable because especially Spencer wants to be very responsible with it… To have security for our children," Montag concluded.