Casey Anthony's Personal Belongings Being Sold On 'Murderabilia' Website: 'I'm Catering To Supply & Demand,' Says Owner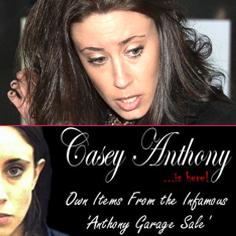 Personal items belonging to Casey Anthony that were sold at a yard sale by her parents, George and Cindy Anthony — as RadarOnline.com exclusively reported — are now being re-sold on a popular "murderabilia" website for $800 a piece.
There are 13 items up for grabs, purses and pants, on the site that touts itself as "The premier true crime collectibles website! Catering to true crime collectible enthusiasts from around the world since 2008" with a caption on each piece stating they were "purchased from the Anthony garage sale by Ms. Christina Werner on June 28, 2013."
Article continues below advertisement
"I'm catering to supply and demand," the owner of serialkillersink.com, Eric Holler, told WESH 2 News in Orlando.
Holler confirmed that the belongings were bought by Werner at a yard sale held by the Anthonys last summer.
RadarOnline.com broke the story with exclusive photos and video of the sale and Werner's interaction with the Anthonys.
"Of course I'm trying to profit, I'm running a business here," he said. "I'm not in the business of losing money."
According to Holler, Werner wanted to "wash her hands of the situation" and each item comes with a "certificate of authenticity."
However, as RadarOnline.com exclusively reported, Werner also purchased items at the yard sale belonging to Casey's deceased daughter Caylee Anthony — but Holler had no interest in those toys because he said it would "cross the line."
The controversial website also sells items purportedly once belonging to famous serial killers John Wayne Gacy, Charles Manson and Jeffrey Dahmer.