'Bachelor' Juan Pablo, We Have A Situation: Contestant Was Once Mike 'The Situation' Sorrentino's 'Booty Call'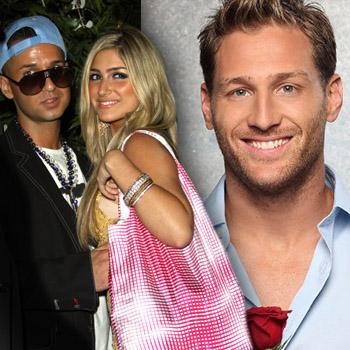 Does The Bachelor star Juan Pablo Galavis know he's getting Mike 'The Situation' Sorrentino's sloppy seconds?
According to a new report from Star magazine, while Bachelor contestant Elise Mosca tugs at Juan Pablo's heartstrings as a first grade teacher — she's actually a star chaser who used to be a "booty call" for the Jersey Shore cast member.
"Elise knew Mike before he was famous," a pal told the magazine.
Article continues below advertisement
"But she really focused on him after he hit it big. She wanted to be with him for the fame, and eventually it got kind of creepy."
Mosca, 27, worked the Jersey Shore auditions in 2008 and claims in a Facebook post that she "discovered" Sorrentino and asked him if he wanted to be on the show.
"Elisa had been doing some work for the casting company behind the series, and she knew Mike from around the Seaside Heights bars," the source continued.
"After Mike became a hit on the series, Elise started showing up everywhere he was. It was almost like she was stalking him. She definitely seemed obsessed with him."
"Mike hooked up with Elise on occasion through the years," the insider said.
"But it was always strictly a booty call. She was dying to be his girlfriend, but he was just having fun. Sometimes Mike would even lead Elise on, telling her they'd meet up at a specific time and place, then he wouldn't show. But I don't think she cared."
To find out more about Mosca and Sorrentio's hook ups — and what Juan Pablo thinks he knows about her — pick up the latest issue of Star magazine, on newsstands everywhere Thursday.