Harry Styles' Pals Urge Singer To Head In One Direction -- Away From Kris Jenner!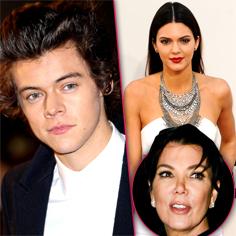 Harry Styles new romance with Kendall Jenner has her mother Kris Jenner "thrilled" -- and his friends urging him to run the other way!
An insider told Star that Harry's "friends don't want Kris to sink her teeth into him" so that the Kardashians can soak up the rays of his celebrity sunshine, as they have with past and present high-profile beaus such as Kanye West, Lamar Odom, Reggie Bush and Kris Humphries.
Article continues below advertisement