Beverly Hills Bride-To-Be! Kim Richards' Daughter Brooke Brinson Engaged!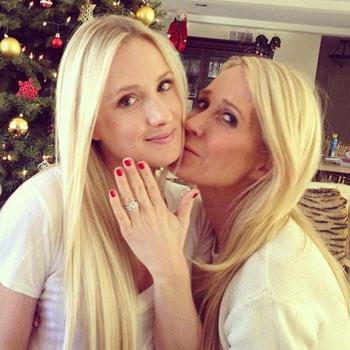 Real Housewives of Beverly Hills star Kim Richards had plenty to celebrate this holiday season, as her oldest daughter, Brooke Brinson got engaged to her long time beau Thayer Wiederhorn on Christmas, RadarOnline.com has learned.
Brooke gushed on Instagram, showing off the beautiful engagement ring: "BEST. CHRISTMAS. EVER. I get to marry my best friend and the man of my dreams! I love you @twiederd!"
Article continues below advertisement
Thayer, son of Fatburger restaurateur Andy Wiederhorn, is heir to the popular burger chain, sources told Radar. One of six children, Thayer has a twin brother who's, ironically, dating Brooke's cousin, Kyle Richards' daughter, Farrah.
Proud mama Kim also shared the happy news on her own page.
"What an Amazing Christmas! My BABY GIRL is getting MARRIED! & I couldn't ask for a better Son-In-Law! I LOVE YOU BOTH! & Wish you ALL the HAPPINESS in the WORLD!" she wrote.
Brooke is Kim's first child with her ex-husband G. Monty Brinson, who also left a heartwarming message on Instagram for his daughter.
"Today Kim and I we're blessed that our daughter got engaged. What a beautiful Christmas for our family. Time for a celebration tonight," he wrote.
Leave congratulations for Brooke and Thayer in comments!