Exclusive
Kanye Keeps Kim In Line During Hometown Visit – Fixes Her Chicago Restaurant Snub!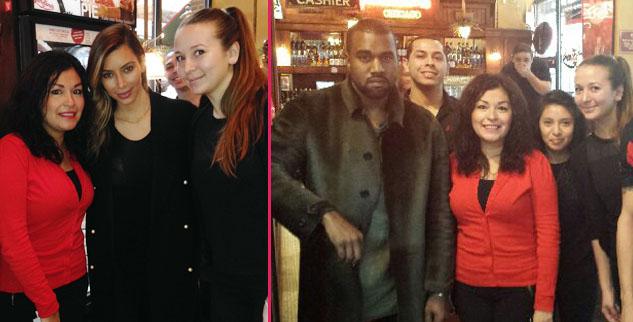 Kanye West is keeping Kim Kardashian in line when it comes to public appearances, making sure she keeps her fans happy — and RadarOnline.com has all the exclusive details and photos.
While in the rapper's hometown of Chicago on Thursday afternoon the high-profile couple stopped by the Windy City's famous Giordano's Pizza and mingled with fans, but after Kim accidentally snubbed the staff for a photo-op, West called her out on the error and the reality TV star went out of her way to make it right.
Article continues below advertisement
"When their pizza was ready, they shared with their Giordano's server how much they loved the pizza and offered to take a photo with the staff when they were done," an eyewitness exclusively told Radar.
"While Kanye went to pose, Kim got a phone call and stepped outside to take it near their car. Kanye called after Kim but she was out of earshot and he just took the photo solo and thanked everyone on his way out the door, then the couple drove off."
But it was a Christmas miracle when Kim showed back up at the restaurant to right her wrong.
"More than 10 minutes later, much to her surprise, the Giordano's hostess looked up and saw Kim back in the restaurant standing among guests waiting for a table. Kim realized that she offered to take a photo and spaced out when she was on her call," the insider told Radar.
"She asked her driver to turn around and come back so she could to apologize to the restaurant. She then posed with stunned staffers before wishing them all well for the holidays and the duo drove off again in their black SUV."
And in case you're wondering, Kimye also "left a gracious tip," the insider revealed.
"Everyone who interacted with the couple remarked how incredibly kind they were and how nice it was that Kim came back to take that photo," the source concluded.
"Kim really was super sweet and went out of her way to come back. All of the Giordano's staff raved about her and would be happy to have them both back for deep-dish any time!"