Exclusive
Step Aside, Bridesmaids! Cameron Diaz, Sandra Bullock & Jennifer Aniston Want To Do 'The Mother Of All Chick Comedies' Together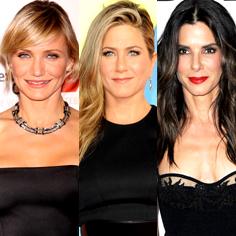 Cameron Diaz, Sandra Bullock and Jennifer Aniston are searching for "the mother of all chick comedies" to act in together, RadarOnline.com is exclusively reporting.
Twenty years after they all became household names, the forty-something actresses are hunting for a funny script that would give them all meaty roles, an insider tells Radar.
"But Sandra is the one who is friends with both Cameron and Jennifer, and would likely get top billing in the project," notes the source.
Article continues below advertisement
"It's amazing that this is even being considered by this group -- and shows that they're putting aside old rivalries to find ways of staying relevant in recession-racked Hollywood.
"Although there isn't a script or concept in play just yet, the film could do for girl comedies what The Avengers did for superhero movies," the source said.
"The success of The Heat and the movie Bridesmaids has shown that female buddy comedies are the hottest thing going and Cameron, Sandra and Jen would love to work together and rake in box office gold."
According to the insider, the idea has particularly inspired Peter Chernin, the well-heeled producer of Bullock's recent comedy hit, The Heat, as well as Cameron's longtime pal Drew Barrymore, who is currently hunting for a new film to direct after a several-years-long break.
How psyched would you be for a flick with all these women? Sound off in comments below…