Wendy Williams Slams Teresa Giudice: Declares She's 'Delusional Not To Think About Jail Time'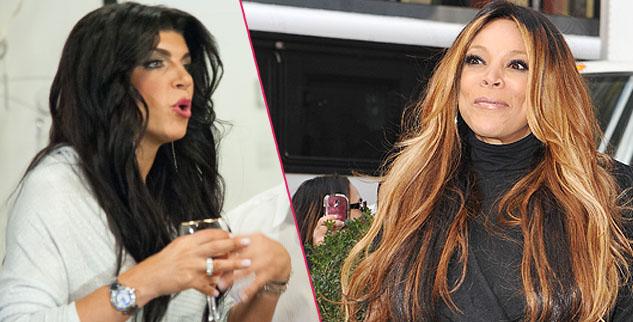 Teresa Giudice is facing a whopping 41 felony charges for tax evasion and fraud and has proclaimed her innocence and is hoping to avoid the slammer, but talk show host Wendy Williams says she is "delusional" if she's ignoring a jail sentence.
The Real Housewives of New Jersey star and her husband, Juicy Joe Giudice, have been accused by prosecutors of concocting multiple scams in order to avoid paying taxes and they're seeking to send the pair to jail for a stunning 50 years.
Article continues below advertisement
While the reality TV pair have pleaded not guilty in preliminary hearings, they shouldn't be thanking their lucky stars yet says Wendy.
GALLERY: The Giudice's 30 Most Shocking Quotes About Fraud & Finances
"Teresa Giudice is delusional not to think about jail time," the popular daytime talk show host told Life & Style magazine.
She said that the charges that have gone from 39 to 41 don't bode well for the parents who have four young children to worry about.
"With more legal troubles, she could definitely end up behind bars," Wendy warned.
Teresa and Joe's trial is set to being in February 2014.
Do you think Teresa will wind up behind bars? Tell us in comments.