Porsha Stewart Calls Estranged Husband Kordell A 'Bubble Butt' & Cheapskate On RHOA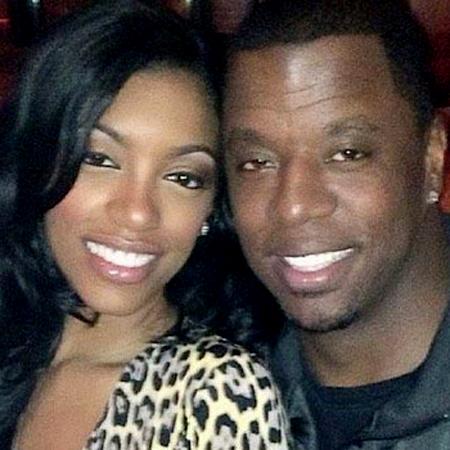 Hell hath no fury like a housewife scorned!
Porsha Stewart, who has implied her husband Kordell might be gay, continued her war against the former football player on Sunday night's The Real Housewives of Atlanta.
The reality TV beauty said on the episode that Kordell was a cheapskate, having given her so little money when they were married that she had to get loans from her mother!
"Karma is going to bite him in that big bubble butt," Porsha said.
Article continues below advertisement
During the episode, Porsha talked to her mom, Diane, about how Kordell had kicked her out of their home and wasn't paying spousal support.
But Porsha, who is now living with her mother, finally did receive a $5,000 check from him.
Diane recalled that Kordell promised to take them both shopping when he and Porsha first got married.
But "when you went in your purse...it was empty a lot of times," Diane said. "I remember you came to mama to get a little money."
Porsha remembered for Bravo's cameras, "Here I am, driving a Benz. I have this husband who tells everybody, 'She's my queen,' but yet, I have to ask my mom for $500. It's ridiculous."
The reality TV beauty said of Kordell's surprise divorce filing, "For him to make it so public and try to humiliate me -- the betrayal of that is unmatched."
It appeared she'd have to get together with Kordell to get her personal items -- but her mom was worried.
Article continues below advertisement
"I don't want you to meet up with him by yourself," Diane said.
Later, however, Porsha's lawyer texted her saying Kordell planned to just pack her stuff and send it over.
"He's doing anything he can possibly do to hurt me," she fumed. "It's low down!"
Meanwhile, in another housewife storyline, Kenya Moore was triumphant at winning a round in court in her eviction case.
"I"m moving out of the house on my own accord," she told the cameras.
But when Kenya cried to NeNe Leakes about the situation, the RHOA mama bear said it was a big old "crocodile tear."
"I don't want to hear that s*** about you being displaced," NeNe told her.
On Sunday night, RHOA fans also saw Cynthia Bailey's battle with a serious health condition that caused tummy bulge.
The 45-year-old model pointed out to her husband, Peter Thomas, how she looked pregnant in photos.
Article continues below advertisement
"There's nothing fly about looking pregnant when you aren't pregnant," Cynthia sighed.
'I can't live like this anymore," she said. "I've got to lose some weight."
Cynthia's medical problem? Uterine fibroids, which caused heavy menstrual cycles and bloating.
The TV beauty cried about being a "fat a**s model," as she lifted her shirt to show her round stomach.
Peter cruelly joked, "You will be wearing Depends."
Before the couple visited a doctor, he also sniped, "I couldn't understand why you eat so much."
"Lately, I've been eating like an animal," Cynthia admitted in confessional.
"I can't control it!" she yelled at her husband.
Later, however, Peter was sympathetic when the doctor advised having her fibroids taken out.
"Thank God I don't have to have a hysterectomy," a relieved Cynthia said.
Meanwhile, Phaedra Parks, who has been locked in a bitter feud with co-star Kenya since she texted her husband, Apollo Nida, told the other ladies, "I don't foresee that we'll ever be friends. Texting my husband, propositioning my husband ... that crosses the line."
Article continues below advertisement
Phaedra said Kenya wanted "to do a Monica Lewinsky with him."
But all the women soon got together at a restaurant, and Kenya explained to Phaedra that there was nothing inappropriate in her texts to Apollo.
Phaedra contended, however, that Kenya had implied Apollo was flirting with her -- and added that she shouldn't be texting anybody's husband!
"I don't want your man. I'm nobody's whore and nobody's fool," Kenya said.
However, Phaedra said in a confessional segment, "She definitely crossed the line."
Also, the attorney pointed out that during last season's RHOA reunion show, Kenya had also accused her and Apollo of having AIDS!
"What was said was in the heat of the moment," Kenya told the cameras.
Kenya said she wasn't going after Phaedra's husband and there appeared to be a truce.
In the final storyline on Sunday's show, Kandi Burruss visited her mother Joyce, who was living in Kandi's old house and getting it remodeled.
Article continues below advertisement
But in a shocking salvo, Joyce took the time to harshly criticized Kandi's fiance, Todd Tucker.
"How much do you really know about him?" she asked.
Kandi sighed, "You treated him mean."
But her mother didn't pull any punches, claiming of Todd, "He's sleeping, eating on you!
"I see a man as a provider. I want him to be able to provide for you."
According to Joyce, a pre-nuptial agreement wouldn't be enough for her music producer daughter.
Kandi rolled her eyes and said, "Am I supposed to stay single forever?"
She pointed out to Joyce she'd dated guys with money -- who have multiple girlfriends.
Still, Kandi's mom kept up the pressure, telling The Kandi Factory star that her daughter Riley didn't like Todd.
And according to mom, Todd should have gotten her a better engagement ring!
"He got me what I wanted," Kandi said, crying.
"I know you want to choke me right now," her mother said, leaving the room.