Exclusive
Kim Kardashian As Jackie Kennedy? Kim & Kanye West Stay In Kennedy Honeymoon Cottage On Romantic Getaway With Baby Nori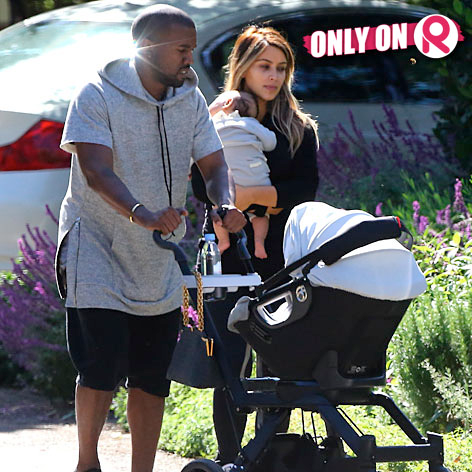 Kim Kardashian and Kanye West's getaway this week had a classically romantic twist to it, RadarOnline.com is exclusively reporting.
The pair stayed in the legendary Kennedy Cottage, one of the largest accommodations at the San Ysidro Ranch resort in Montecito, Calif.
The 2,000 sq. ft. cottage is where Jack and Jackie Kennedy spent part of their 1953 honeymoon, and has its own gated entrance and courtyard.
Article continues below advertisement
The new parents took daughter, Nori, along for the short trip out of L.A. but she and her nanny stayed in a separate cottage, less than half the size of the Kennedy Cottage, and about 100 yards away.
"Kim and Kanye never left the Ranch property," an insider tells RadarOnline.com exclusively.
Instead, they strolled around the grounds with Nori, sometimes in her stroller, as our pic from X-17.
shows, and sometimes in Kim's arms.
"Kim was also spotted cuddling little Nori on the upper level of their private deck," Radar's eyewitness says.
When bedtime came around, though, Kim and Kanye wanted time alone, so Nori and her nanny retreated to their cottage while the new parents got to enjoy the comforts of the Kennedy Cottage.
The two bedroom suite is decorated with the finest of antiques, crystal chandeliers and Persian rugs.
It typically runs $3,500 a night.
Ironically, the resort outside of Santa Barbara is just minutes from where Kardashian married Kris Humphries https://radaronline.com/category/tags/kris-humphries/ in 2011.
Apparently her unhappy memories from that union weren't enough to keep her away from reliving the Kennedy's romantic honeymoon.