Kim Kardashian Goes Commando In Public Restroom With Kanye West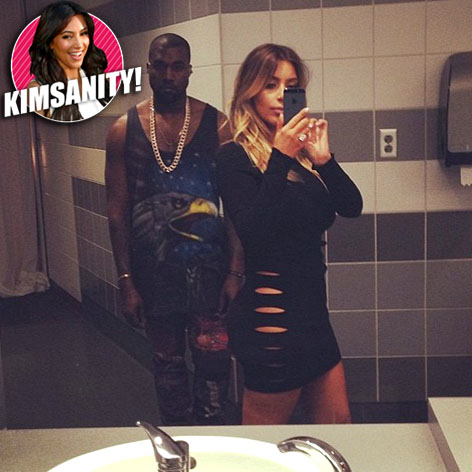 Kim Kardashian had a very Kimsanity way of showing her support to her baby daddy, Kanye West, Friday night.
The reality star wore a cut-out little black dress that clearly left no room for undies, and showed it off via a selfie she took in a restroom at the American Airlines Arena in Miami!
West was in the background of the pic, taken before he hit the stage with his The Yeezus Tour last night.
"Bathroom selfie right before Yeezus hits the stage," Kardashian wrote to her followers.
Article continues below advertisement
The Keeping Up with the Kardashians star followed it up with several more images, taken in the audience with several lookalike girlfriends plus actress Gabrielle Union and her BFF Jonathan Cheban, tagged "Show time."
Kardashian, along with baby daughter Nori, are following West around the country on his mini tour. Next stop - Saturday night in Tampa.