Daddy Duty! Kanye West Takes On Care Of Baby North While Out With Mama Kim Kardashian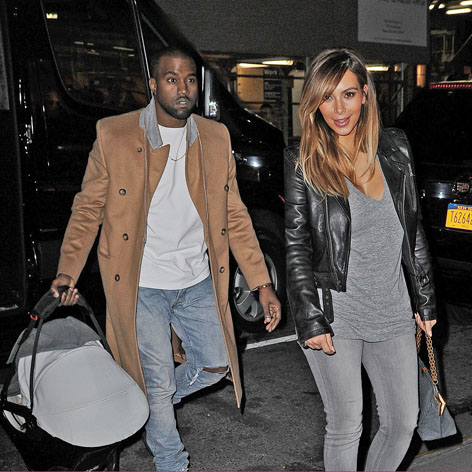 Taking a break from his sold out Yeezus tour, Kanye West did the heavy lifting when he took his baby mama, Kim Kardashian, and their daughter, North, out to dinner Friday night.
The threesome pulled up to a Big Apple restaurant in a tripped-out tour bus, and Kim stepped out carrying just a small handbag.
West followed, carefully caring Nori in her car seat. He never took his eyes off his bundle of joy, carefully watching his steps as he got off the bus.
Article continues below advertisement
Only when they were inside the restaurant did West attach the seat to little Nori's stroller which was positioned by them at their table.
Both parents were dressed in surprisingly understated ensembles for their family night out. Kardashian was in gray pants and top with a black leather jacket while West wore jeans and an almost classic camel hair coat.
West's Yeezus tour -- labeled "incredible" by Rolling Stone -- stops next at Madison Square Garden Sunday night.