Exclusive
More Legal Trouble For Charlie Sheen's Ex: Brooke Mueller Being Sued For $10 Million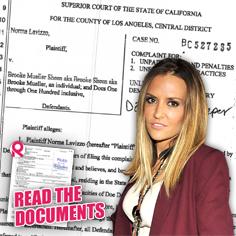 There is never ending trouble for Brooke Muller, and RadarOnline.com is reporting that she was just slapped with a whopping $10 million lawsuit.
Charlie Sheen's ex-wife and baby mama is being sued by former nanny, Norma Lavizzo, for failure to pay overtime wages and unfair business practices, and she's asking for a stunning $10 million.
According to the documents obtained by Radar, Lavizzo was employed by Mueller for four years, prior to filing the lawsuit.
Article continues below advertisement
Read The Lawsuit Filed Against Brooke Mueller For $10 Million Here
Lavizzo alleges Mueller forced her to work more than 40 hours a week, and didn't pay overtimes wages. Mueller is also charged with not letting Lavizzo have "uninterrupted rest and meal periods."
The lawsuit seeks liquidated damages of "no more than ten million dollars," attorney's fees, and a jury trial.
In separate legal proceedings on Monday, Mueller's brother, Scott, was granted temporary guardianship of twin sons, Bob and Max, after Denise Richards wrote a letter to child protective services revealing she could no longer care for the boys because of their "violent behavior and drastic mood changes."