Exclusive
Kendra Wilkinson Had Secret Rendezvous With NFL Ex Shawne Merriman Behind-The-Back Of Husband Hank Baskett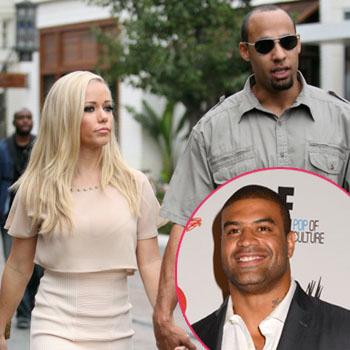 Former playmate Kendra Wilkinson had a secret rendezvous with her ex-boyfriend, Shawne Merriman, behind-the-back of husband Hank Baskett, RadarOnline.com is exclusively reporting.
According to a source, Wilkinson -- who is now eight weeks pregnant with her second baby -- met up with Merriman in San Diego last June.
"She went to San Diego alone without Hank," the insider told Radar.
"Hank stayed home with the baby, while she had an appearance at a club. Shawne was there."
Article continues below advertisement
The source continued, "Kendra and Shawne dated for a while and they had a pretty volatile relationship. They've always had feelings for each other. He was there on this night and they hung out."
Merriman, nicknamed "Lights Out", played in the National Football League from 2005 to 2012 for both San Diego and Buffalo.
He is also the former boyfriend of reality star star Tila Tequila.
What's more, the San Diego rendezvous wasn't the last of Wilkinson and Merriman's secret meet-ups!
"I know that they've met for lunch," the source revealed.
According to the source, Baskett -- himself a former wide receiver who played for Minnesota Vikings, Philadelphia Eagles and Indianapolis Colts -- is now aware of Wilkinson's meetings with Merriman.
Even though the pair is said to be platonic, it's been the cause of many bumps in their relationship, the insider said.
"I know that that caused a lot of problems," the source added.
Despite the marital drama, Merriman has started working out at Baskett's new gym, Performance Gaines — and Wilkinson has remained in contact with him, we're told.
Wilkinson did not return a request for comment.
---
UPDATE 10:40 a.m. PT -- A rep for Merriman contacted RadarOnline.com and confirmed the pair did encounter each other at a San Diego club, "which Shawne is part owner of." But the rep added, "there was no personal reason for either being there or any kind of "meet-ups" or "secret rendezvous" at the club or otherwise."