JLO's World Crumbling? Longtime Assistant Quits, Defects To Mariah Carey's Camp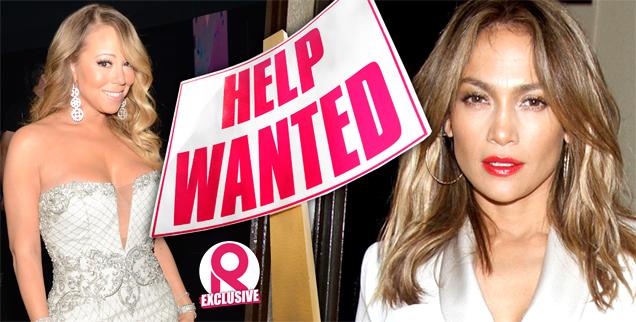 Casper Smart isn't the only person set to leave Jennifer Lopez — because as RadarOnline.com has learned, the American Idol star's longtime assistant has quit to work for the woman she replaced at the judge's table, Mariah Carey.
Lopez's right-hand woman Gilly Iyer recently departed JLO's entourage to work for music producer Jermaine Dupri, who joined Carey's management team last week.
"Gilly had enough, she was over it," a source close to the mother-of-two JLO told Radar.
Article continues below advertisement
"Gilly had been looking to leave for sometime and as soon as Mariah hired Jermaine, she quit. Jennifer was stunned. But she has already hired a replacement."
A major bone of contention between Iyer and Lopez, 44, was how she let boyfriend Casper call all the shots in the household. He would mistreat, fire and alienate her staff, according to one source.
"That upset Gilly," the snitch explained. "Casper always insisted that Jennifer's staff call him Mr. Smart and even demanded that Gilly get him drinks."
The singer and her much younger boy toy have been dating since 2011, but as RadarOnline.com was first to reveal this week, the pair is headed for a breakup.
"Jennifer is pretty private about the relationship, but she's been hinting that the spark is gone," another source revealed.
"She's having a hard time ignoring the fact that her head has been telling her for a while that this thing with Casper isn't forever. And now her heart's saying the same thing."
Added the insider, "They're obviously in very different places in their lives and Jennifer wants to take responsibility for her life and not repeat the same mistakes she has made in the past. She enjoyed the relationship for what it is, but now that giddiness has turned to sadness."
The thrice-married and divorced pop star and Smart have not been photographed together since September 21.
What's more, this is not the first time an influential figure in Lopez's inner circle has quit: Fabian Herrera, a tour manager, departed Team Lopez on the eve of her 2012 world tour after she hired Casper to be her tour choreographer.