Former 'The Hills' Star Jason Wahler: I Tried To Kill Myself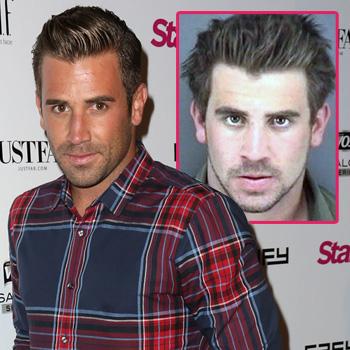 Former The Hills bad boy and Lauren Conrad ex, Jason Wahler, made a startling admission recently, confessing that during his lowest point he attempted suicide, and RadarOnline.com has all the details.
In a blog with the Huffington Post on Thursday titled "A Complete 180," Wahler takes a look back at his days on the hit MTV shows, Laguna Beach and The Hills, his six arrests, DUIs, fights and jail time and reveals that prior to his three years of sobriety, he contemplated taking his own life several times.
Article continues below advertisement
"Behind the scenes, my addiction had led me to the deepest, darkest places. I continued to get into legal trouble, and I even tried to take my own life. I was convinced that I had it all -- backpacks full of cash, girls, fame, cars, you name it," Wahler, 26, wrote.
"I was so uncomfortable in my own skin that I contemplated suicide a number of times, and even attempted it once. I took 10 times more antabuse (a popular drug that helps alcoholics abstain from drinking) than I was supposed to in an effort to take my own life, but was saved after being rushed to the hospital and receiving treatment for my overdose. That was about four years ago, and I have now been sober for three."
After several failed rehab stints, Wahler appeared on Dr. Drew's Celebrity Rehab and finally conquered his demons.
"Since my time spent with Dr. Drew, I joined AA, got a sponsor and started on the path to my own recovery. Once I had gotten sober, I received a number of offers from different treatment centers to be a spokesperson, but it was my connection with the owners of Northbound Treatment Services that interested me… Through this position, I take other recovering users out and get them active. I get them involved in the things I like, such as doing anything with a board -- surfing, wakeboarding, paddle boarding, etc," he explained.
Article continues below advertisement
"This is where I feel as though my journey through addiction and into sobriety has come full circle, primarily because I can continue to live a sober life and help others do the same. I did not go through the program at Northbound, but my experience here has changed the course of my life and helped me to stay sober.
And while his ex-girlfriend Conrad just got engaged to William Tell, Wahler has moved on as well — with fiancee Ashley Slack.
"I have found my soul mate in my fiancée, Ashley Slack, who will be my wife in just a matter of days. We have spent this past year preparing for the next step and as of this Saturday, I will be officially off the market and could not be happier about it!" Wahler dished.
"Ashley has supported me in my sobriety and has played a pivotal role in shaping who I am today -- a man much different than the one that used to flood the airwaves with debauchery. Our wedding will be yet another accomplishment and proud moment in my life -- a life that has been turned around through hard work, dedication, and the love of an amazing woman who I look forward to sharing the rest of my sober and successful life with."