Texas Authorities Suspend Camille Grammer's Ex-Boyfriend's Law License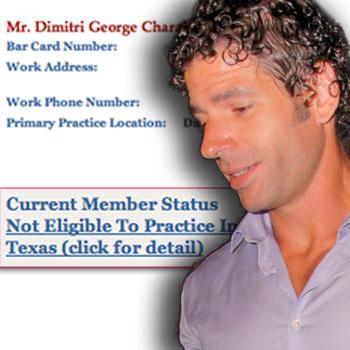 The man who is alleged to have brutalized and terrorized reality star Camille Grammer -- leaving her with her bruising on wrists, a large head contusion, scrapes and abrasions -- has lost the right to practice law in his home state of Texas, RadarOnline.com has exclusively learned.
Dimitri Charalambopoulos, an attorney who has been ordered to remain 100 yards away from the ex-wife of Frasier star Kelsey Grammar, had his license suspended earlier this year.
Article continues below advertisement
According to documents from the Texas Bar Association obtained exclusively by RadarOnline.com, the alleged domestic abuse perpetrator failed to complete MCLE requirements, the ongoing legal education for practicing attorneys, leading to the suspension.
It's the latest setback for the Dallas-based Greek hunk, who had been dating the Real Housewives of Beverly Hills star for two years before their explosive confrontation in a Houston hotel room on October 16.
RadarOnline.com published nine black and white photos on Tuesday that were submitted to the Houston Police Department, showing what is alleged to be the aftermath of Charalambopoulos' attack on the 45-year-old mother of two — including her smashed iPhone next to clumps of hair he had supposedly pulled right from her head.
Close-up shots of Camille's face, arms and hands were also provided to cops, which she said in a court filing showed bruising, including "on the side of my head was manifest: a large, swollen, painful bruise."
Article continues below advertisement
The dispute -- sparked over a phone call and text message from a mystery woman -- occurred just four days after Camille had a hysterectomy.
"He squeezed my nose between his finger and pushed upward forcefully, covering my mouth in an attempt to silence me to prevent me from breathing," Camille claimed in her successful application for a temporary restraining order.
"He was repeatedly slamming my head and face into the furniture and completely immobilizing me."
Camille even claimed Charalambopoulos taunted her into calling the police saying: "I wanna smash your head in. I'll give you a reason to call the cops."
A hearing on November 19 will determine if the restraining order will be made permanent.