Exclusive
RHOM Truce: Adriana De Moura Dishes On Joanna Krupa Makeup, Says She Was 'Afraid' & 'Anxious'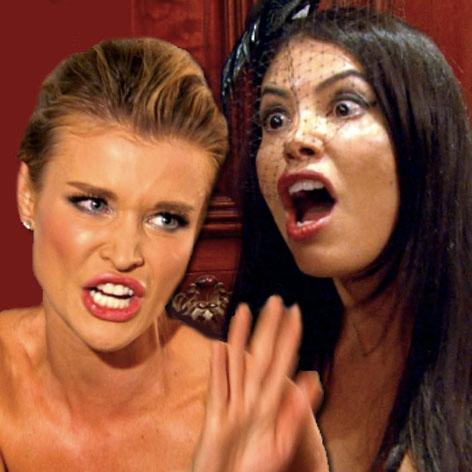 Adriana De Moura and Joanna Krupa's volatile relationship has been a major focus on the Real Housewives of Miami and their fights have rivaled the New Jersey ladies but RadarOnline.com has the exclusive details about why they called a truce.
Their makeup session was a shock to viewers of the show who were convinced that the two beauties would only bury the hatchet in each other's backs, but De Moura explained that it was not easy to get there and that she was "afraid" and "anxious" about their meeting.
Article continues below advertisement
"It doesn't make any sense to be fighting with her," the brunette beauty exclusively revealed to RadarOnline.com about her blonde rival.
"The big fight started when she jumped in and we became enemies, but we've realized it was a reaction to a situation and so now we're trying to put that all behind us," De Moura explained.
"I'm in such a good place in my life and I don't want to spend any energy fighting with Joanna."
De Moura was 51 minutes late for the meeting with Krupa, and she explained her tardiness to Radar.
"I am Brazilian, we are notoriously late. It was British versus Brazilian time. But there were a lot of procrastinations on my part. I was afraid, anxious and all of that plays in deep down so I was dragging my feet afraid of what would happen."
Recalling their original fight, De Moura said that she was provoked by Krupa.
"As if I was just out of the blue getting angry? She forgets quite easily. I spent one hour of her insulting me, cussing and everybody has a breaking point. I emphasized my reaction. I'm usually an easy person to get along with but don't step on my toes. I was standing my ground."
"It is hard to live with a grudge and it is harder to hate than love. Hating somebody is negative and that is hurting me. I want to be free to be happy and free to love."