Exclusive
Another Amy's Baking Company? Texas Restaurant Ripped For Calling Customers 'Sorry A**ed Rednecks' -- Chef Responds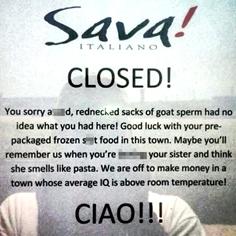 It's another kitchen nightmare — but this time, Gordon Ramsay is not involved.
Sava! Italiano restaurant in Amarillo, Texas, is drawing dozens of angry comments online after allegedly posting a hateful going-out-of-business letter to locals on the restaurant door. But the owner, Chef Mark Coffman, exclusively tells RadarOnline.com that it's all a dirty plot by disgruntled employees.
"CLOSED!" the sign, which first appeared on Reddit, read. "You sorry a**ed, rednecked sacks of goat sperm had no idea what you had here! Good luck with your pre-packaged frozen sh*t food in this town. Maybe you'll remember us when you're b**ging your sister and think she smells like pasta. We are off to make money in a town whose average IQ is above room temperature! CIAO!!!"
Article continues below advertisement
Angry commenters took to Facebook after a picture of the sign, on restaurant letterhead, went viral.
"Your foods sic sh*t anyway!" Thad Davis wrote on the restaurant's Facebook page.
Wrote Casey Salley, "…I hope your restaurant drowns in a pool of goat sperm."
And Frankie Billy Lopez wrote, "I hope your restaurants sic all lose business. Dumb f**ks."
But Coffman tells RadarOnline.com that he never wrote such hateful things about his former customers -- even though he thinks he knows who did.
"We did not post it. It was absolutely done maliciously," Coffman tells RadarOnline.com.
"Nobody has actually seen the sign on the building. We've only seen it on the Internet. And I don't know anything about Photoshop or anything like that, but we do have some disgruntled people who have access to everything: my personal phone, personal computer, restaurant, computer, letterhead."
Coffman says that some of his chefs were upset when he pulled the plug somewhat sooner than expected on August 16 in preparation for moving the restaurant to Lubbock — and now he believes they've gone rogue.
Article continues below advertisement
"These were my two closest guys," he says of the alleged perps. "I don't want to implicate anybody in particular, but these were several trusted employees within the company. We're doing research on who first posted it on Reddit, and I can't positively say they're the ones who printed it off, stuck it on the window, took the picture and ripped it down, but I think so."
"It's just unfortunate," he says, insisting that he doesn't have any beef with Amarillo, and is in fact from Lubbock, just two hours away.
"Amarillo's been cool to us. Really cool. We got a huge following and I've absolutely enjoyed it here. We've had some building issues and some other things. So if we're gonna have to pick up and move, I figured let's do something bigger in Lubbock. That's where we're at."
Article continues below advertisement
Now, he's just doing damage control. "My mom called me last night, like 'What is going on?!'" he reveals. "At first, it's total shock. Who would ever do that? Who would ever post something like that who wants to ever be in business again. As it progresses, it seems like people are coming around."
And to those who still think he posted it, he says, "Why do you believe everything you see on the Internet?"