Exclusive
Major Payday For Minor Stars: 17-Year Old Kendall Jenner & Younger Sister Kylie Each Netted Six-Figures To Endorse Product -- See Their Contracts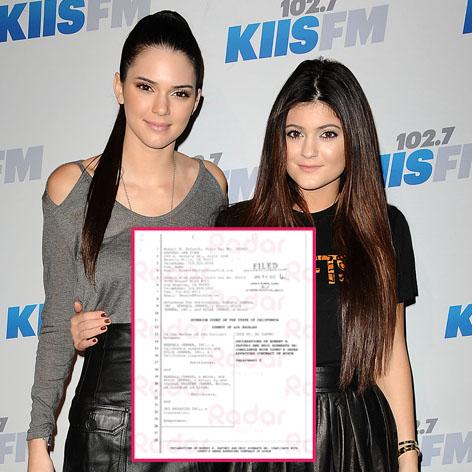 Most teens are content to make do with allowance money and the occasional babysitting job. But Kendall and Kylie Jenner were both racking in six-figure paychecks long before they even turned sixteen.
RadarOnline.com has learned that when Kendall was 15 and Kylie 13, the two earned $100,000 each for lending their name to a new line of OPI nail polish, Kardashian Kolors!
According to documents obtained by RadarOnline.com and filed in a Los Angeles court, OPI offered to pay the six Kardashian/Jenner sisters, Kim, Khloe, Kourtney, Kylie and Kendall $600,000 in all to promote their line throughout 2012.
Article continues below advertisement
The girls' momager, Kris Jenner, signed the documents on their behalf -- and even agreed to do much of the behind-the-scenes work for them.
Kendall and Kylie, as well as Kim, Khloe and Kourtney, had "no approval rights over the color or name of the Products," according to the contract. Instead, OPI agreed to "provide copies of all materials for which it seeks approval to Kris Jenner" who was appointed by the girls to "approve or disapprove all materials on their behalf."
To earn their paychecks, the girls simply had to show up for one press day, do one photo shoot and complete other promotional duties over Twitter and other social media networks at just two separate times during the year, according to the papers.
No wonder Kylie is tooling around town in her second Range Rover just a few weeks after her sweet sixteen!