Feud Of The Week! Chelsea Handler Tells Kris Jenner To 'Shut Her Pie Hole' After Obama Slam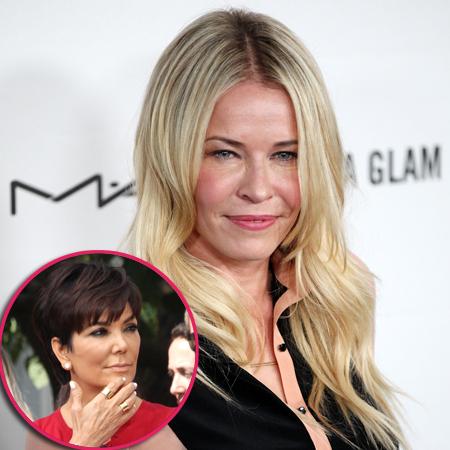 Chelsea Handler is never one to hold back, and it's no different when it comes to Kris Jenner, who she recently told to "shut her pie hole" after the Kardashian matriarch slammed PresidentBarack Obama.
According to a new report from Star magazine, the two women attended the same party recently at the home of an E! executive and Jenner was loudly chastising the President for comments he made about her daughter, Kim Kardashian, and Handler let the momager have it.
Article continues below advertisement
Obama recently said in an interview that kids of past generations "weren't monitoring every day what Kim Kardashian was wearing…and thinking that somehow that was the mark of success."
After overhearing Jenner say it was "completely unpresidential for the leader of the free world to publicly trash Kim," a source tells the magazine Handler "came right over to Kris and told her to shut her f**king pie hole."
"She said that Honey Boo Boo's mom has more class!" the insider continued. "She laid into Kris about Kim's porn tape and said no one in this town likes any of them."
Jenner allegedly snapped back at Handler accusing her of only liking Obama because he's black — but the Chelsea Lately host let her have it.
"Chelsea started to laugh and sassed Kris if she had checked who her daughters are with," the source told the magazine.
For more on Handler's feud with Jenner, pick up the latest issue of Star magazine on newsstands Thursday.