Kelly Bensimon Rips Bethenny Frankel, Declares She Needs To 'Move On'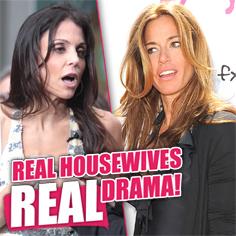 Article continues below advertisement
"She will not shut up about a TV show that was not even real. I have never said anything about her," Kelly told In Touch magazine at the Kids Rock! fashion show in NYC on Wednesday.
"I always keep my mouth shut and it's like, 'Oh that crazy Kelly…' I mean I took the wrath from all that, and it's just really unsettling."
Kelly rips into Bethenny and says she needs to let go of her animosity and "move on!"
"We don't want to hear what she thinks about a fabricated television show that I was actually a part of," Kelly said.
"It's four years ago… she needs to move on!" She insisted they aren't enemies, but rather "simply cast mates on a TV show that we were paid for."
As for Bethenny's admission that she might have Kelly on her new daytime talk show, Kelly leveled a low insult at her.
"She will literally suck the blood from your child to get ratings. I am literally over her, so over her!"