Whitey Bulger Foe Found Dead Was Poisoned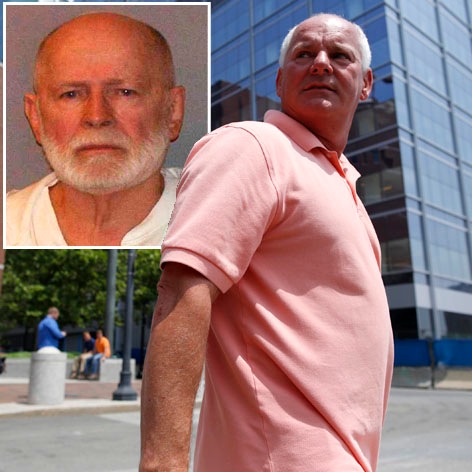 Whitey Bulger has one less enemy to worry about.
It's now been determined that his longtime rival, Stephen "Stippo" Rakes, a regular outside the Boston courthouse where Bulger is being tried for murder and racketeering, who was found dead July 17, was poisoned.
Rakes had hoped to testify against Bulger, claiming the notorious gangster had extorted his South Boston liquor store from him at gunpoint in the 1980s, but on July 16, prosecutors informed him he would not be called to the stand.
Article continues below advertisement
The coincidence of that timing had many assuming that Bulger was somehow behind Rakes' mysterious death.
But on Friday, Middlesex County D.A. Marian Ryan, said that another man, William Camuti, had been arrested for allegedly knocking off Rakes.
"The investigation showed us that Mr. Rakes and the defendant have known each other for many years and had been involved in a number of business transactions," Ryan told the Boston Globe . "We developed evidence showing Mr. Camuti owed Mr. Rakes a significant amount of money."
There was nothing high tech in the alleged deed, according to prosecutors.
The D.A. says Camuti set up a meeting with Rakes at a local McDonald's to discuss a new business deal and then poisoned his iced coffee.
"We allege that the defendant, Mr. Camuti, laced one of those iced coffees with two teaspoons of potassium cyanide," Ryan said. He then allegedly drove around with Rakes for several hours until he died, removed his wallet, cell phone and keys, and dumped the body.
The Bulger defense rested its case Friday. Closing arguments will begin on Monday.