Exclusive
Teresa Giudice Is Innocent! Her Bestie Kim D Says She's A Victim Of A 'Witch Hunt'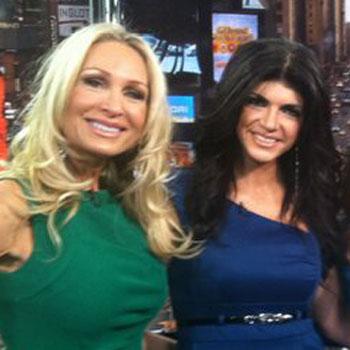 Old friendships never die in Jersey. Teresa Giudice's enemies are reveling in her misfortune but her friend Kim DePaola exclusively told RadarOnline.com that she is the standing by her friend who is a victim of a witch hunt.
"I don't think she's capable of doing the things she's been charged with," Kim D told RadarOnline.com via Celebrity Magnet Tom Murro about Teresa's 39 charges of tax evasion and fraud, which were filed by the Feds on July 29.
Article continues below advertisement
Saying that she supports the Real Housewives of New Jersey star and her husband, who are facing a possible 50 years behind bars, Kim said that the charges are unfounded.
"I think there's been a witch hunt going on for a long time for her."
Kim D and Teresa have been tight for years, and RadarOnline.com previously reported that they were caught faking scenes of the show together this season.
These charges and the backlash Teresa has been facing have only strengthened their friendship says Kim D.
"In this country we are innocent until proven guilty!!! I love my friend and will stand by her!!"