Scientology Exec Arrested In Bizarre Plot To Kidnap & Murder A Cop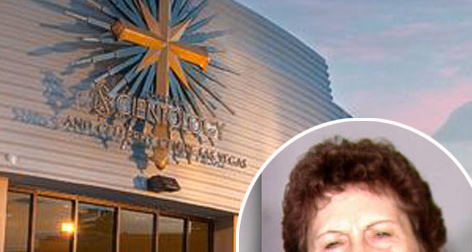 The bizarre plot by two Las Vegas residents to kidnap, jail and murder a random cop just got a whole lot crazier.  One of the alleged would-be killers is a high ranking Scientology  executive!
Devon Campbell Newman, a 67-year-old grandmother, was arrested last week along with David Allen Brutsche, a 42-year-old registered sex offender and six-time felon.
Newman, it turns out, has been the public relations director for Scientology's Celebrity Centre in Las Vegas for the past three years.
Article continues below advertisement
Law enforcement officials say the pair are members of the Right Wing group, Sovereign Citizen, an organization opposed to following laws and paying taxes.
Newman and Brutsche have been under investigation since April when they bought a vacant house they allegedly planned to turn into a jail where they would imprison a police officer while they held a faux trial for his perceived crimes.
According to the police report, Brutsche told an undercover cop "We need to arrest the police and take them to our jail and put them in a cell and put them on trial in a people's court. If we run into the position that they resist, then we need to kill them."
Newman admits to being a member of Sovereign Citizen but denies ever plotting to kill a cop.
"I am upset, because if this can happen to me, it can happen to anyone. I have felt for a while now the police are out of control. That they are stopping people and searching them with no probable cause," Newman told Nathan Baca, a reporter from the Las Vegas CBS station.
"I align myself with people who, as our forefathers did, believe that in inalienable rights and that the Constitution restricts the government from what they can do."
Article continues below advertisement
According to Tony Ortega, the former Village Voice editor who has become a top Scientology investigative reporter, Newman isn't a newcomer to Scientology, she's been a member of the controversial organization for an estimated 40 years.
She was even a member of the high-ranking Sea Org from approximately 2000 to 2004.  She's spoken at interfaith events and put on a "how to make it in show business" seminar at her Celebrity Centre.
In a statement, the church told RadarOnline.com it "feels that it would be inappropriate to make any statements about Ms. Newman or her legal situation at this time."
A spokesperson added, "As a general matter, I will say that membership in groups which advocate violation of the law disqualifies an individual from membership in the Church of Scientology. If you are involved in one of these groups you are out of the Church. It is as simple as that. The Church of Scientology follows the law of the land as is clearly covered in our scripture."
Newman and Brutsche have been charged with Conspiracy to Commit Murder, Conspiracy to Commit Kidnapping and Attempted First Degree Kidnapping With Use of a Deadly Weapon.