Michelle Duggar's Rules For Fighting Kids: 'There Is A Price To Be Paid For Being Selfish'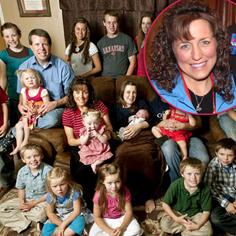 Michelle Duggar has her hands full bringing up 19 children all under one roof and the matriarch of the reality television family says that she learned that the best way to stop children from fighting is to teach them that "there is a price to be paid for being selfish."
The 19 Kids and Counting star revealed that she struggled with her young children fighting just like any other parent, saying in her new video obtained by RadarOnline.com that she had to get help or "I'm going to go nuts if all day long I'm refereeing these little ones!"
Article continues below advertisement
Jim Bob Duggar's wife said she looked to God and the Bible for help and found the answer in Matthew 18 and then began teaching her children the right way to handle problems with each other.
"If you have a problem you talk sweet to your brother or sister. If they came up and they took your dump truck away from you, you talk sweet to them and try and turn their heart to God saying 'Brother don't take that truck away.' If brother doesn't listen, then you come and tell mama because that's when I need to get involved."
Michelle says this is not what her children want, because "Once mama gets involved don't nobody want it to get that way again."
Her method of parenting works for her children Michelle says.
"Usually by the time mine are five or six years old they really do get along because they've learned there is a price to be paid for being selfish. Nobody enjoys being around someone that's selfish.
"Of course the selfishness doesn't pay off because you don't get whatever it is you threw a fit for."
Mama Duggar says that teaching her children this way to handle each other makes them all happier.
"Because of those things they really are each other's best friends."