Kendall & Kylie Jenner: We Had To Grow Up Fast Being In The Public Eye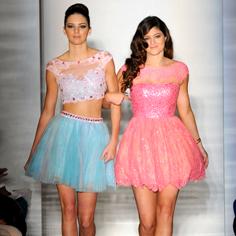 Kendall and Kylie Jenner are the youngest members of the most famous family on television and they've spent their teenage years in front of the camera but in a new interview obtained exclusively by RadarOnline.com they admit that they've had to "grow up fast being in the public eye."
Kris Jenner's daughters said that they think they're more mature than other girls their age, but they have to be because they were thrust into the spotlight at a young age.
Article continues below advertisement
"I'm going to be 18 in four months," Kendall told the Scott and Todd on 95.5 PLJ Radio in New York City show in a sneak peek of their interview obtained by RadarOnline.com that will air on Tuesday.
"I'm growing up and so is my little sister. We may be growing up a little faster than other people but we have older sisters our entire lives who are in their 30s," the reality show star told the radio hosts about her extended family.
"We are a little more mature than someone our age but I don't think we're growing up too fast in any way," Kendall admitted.
Kendall was with her little sister Kylie and she said she thinks they handle being celebrities well considering their every move is caught on camera.
"I think we're doing it right for the situation we've been put in."
"We've had to grow up fast just being in the public eye you kind of have to grow up fast."
soundcloud url="http://api.soundcloud.com/tracks/104119997" params="" width=" 100%" height="166" iframe="true" /