Exclusive
Jenelle Evans Betrayed Again! 'Teen Mom' Feuding With Hubby & Best Friend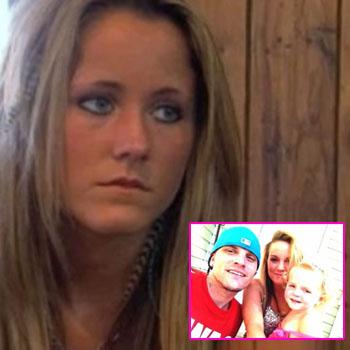 Jenelle Evans is learning the hard way that a good friend is hard to find and even harder to keep and RadarOnline.com has exclusive details about a shocking betrayal she says she suffered by her new best friend.
While her estranged husband Courtland Rogers sat behind bars all summer, the troubled Teen Mom has been spending time with his baby mama Taylor Lewis and building a friendship sure to cause fireworks when he got out of jail.
Article continues below advertisement
Sure enough, just a few days after his release Courtland talked Taylor into bringing their daughter JaJa over to see him and spend time together but when he snapped a picture and popped it up on Twitter the Teen Mom flew into a tizzy.
"How many times is it going to take me to find one true friend that won't f*ck me over?! I can't trust anyone," Jenelle wrote early Tuesday morning.
According to multiple sources close to the situation, Jenelle was "f**king furious" at Taylor.
"How could Taylor betray her like that?" the source asked.
"Jenelle trusted her."
While the backlash was swift with fake accounts from Taylor being posted claiming that she was back together with her baby daddy Courtland, she was begging Jenelle for forgiveness and placing the blame squarely on Courtland.
"No I didn't do it for courtland it was for Jordan. Now I know he used his daughter once again. He did it to hurt jenelle not to see Jordan. MIT it wrong he posted them pictures. He told me that he wanted to take a family picture for Jordan. Not for twitter to start drama."
Article continues below advertisement
In his defense, Courtland told RadarOnline.com: "LOL I didn't do anything wrong," but the women in his life seem to disagree.
"I have lost ALL respect for u. Cannot believe u would actually stoop down and hangout with him knowing him and his past," Jenelle wrote to Taylor, but Taylor is adamant that she did nothing wrong.
"She feels like I stabbed her in the back. But really I would never do that," she said.
The source told RadarOnline.com that Taylor and Jenelle are talking privately but they haven't made up yet.
"Taylor is apologizing to Jenelle but Jenelle is being really stubborn and refusing to believe Taylor because she thinks she was totally betrayed by her."