Accidents, Injuries & Falls: Is Brandi Glanville Reality TV's Klutziest Housewife?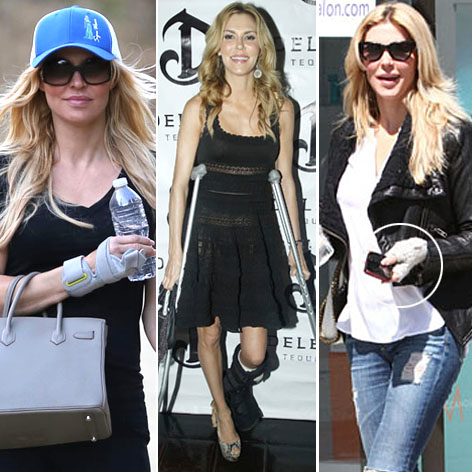 When Brandi Glanville arrived at LAX Saturday, she was sporting a new cast, supporting her broken finger and injured wrist.
"Broken fifth metacarpal, boxers break 5one during a very sober self defense class as u will see on tv!" Brandi tweeted July 15 about the injury.
But that's far from The Real Housewives of Beverly Hills  star's only accident of injury since she's been on her reality show.
Brandi was on crutches when she joined the Bravo cast in 2011!
Article continues below advertisement
She'd broken her foot before filming began that season, possibly from falling off her very, very high heels.
And earlier this year, Eddie Cibrian's  ex-wife badly burned her hand, and she opted not to explain how that injury happened as well.
Somebody needs to give this girl some lessons in staying in one piece!