Brandi Glanville Auction Raises Over $10K For Cancer! 'It's An Important Cause & I Wanted To Do My Part,' She Says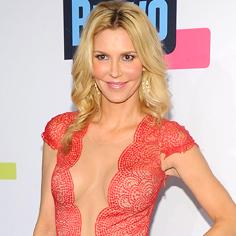 Article continues below advertisement
"I'm really glad to be able to do something to help women living with cancer," Brandi told RadarOnline.com.
"I don't think there is anyone in the world who is not affected in some way by cancer, whether it is themselves, a family member or a friend. It's an important cause and I want to do my part."
As RadarOnline.com previously reported, Charity Buzz valued the package at a whopping $10,000 -- but unlike most celebrity auctions on the site that never reach their estimated value, Brandi's soaring to a winning $10,250 bid.
Along with spending the day with Brandi, the winner also won the custom-designed dress she wore while hosting the 2013 Oscars for ABC-TV's On The Red Carpet.
Proceeds from the auction were donated to Foundation For Living Beauty, which provides free services to help women living with cancer and cancer survivors address the stresses that extend beyond their medical diagnosis.