Exclusive
How Far One Has Fallen: American Pie's Sherminator -- 'The Sophisticated Sex Robot' -- Now Working As Sushi Waiter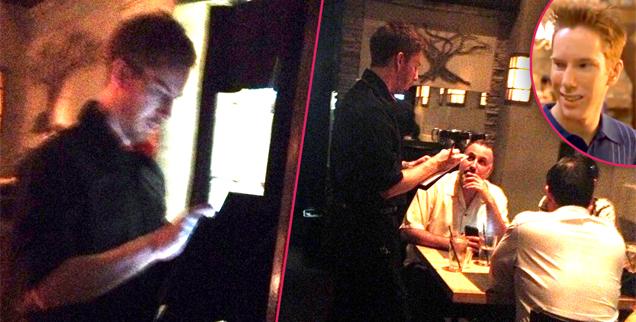 Remember this guy?
His name is Chris Owen and he infamously played "The Sherminator" in the American Pie movie series, and RadarOnline.com has exclusively learned the 32-year-old is now a struggling actor moonlighting as a waiter at the upscale Los Angeles sushi joint, Sushi Roku.
Chris was spotted serving sushi and sake on Tuesday night at the Santa Monica location, with seemingly no patrons recognizing the famous face, except one eyewitness who snapped a series of photos obtained by Radar.
Article continues below advertisement
"It was kind of funny watching The Sherminator serve at a sushi restaurant," the eyewitness told Radar.
"It was also sort of sad to see how quickly and easily an actor can fall from fame. No one in the restaurant even seemed to recognize him."
Chris has been working at the sushi restaurant for more than a year, with several sightings on Twitter going back to last year.
"'The Sherminator' was my lunch server at Sushi Roku today. Hysterical. #AmericanPieflashbacks," user @hannahbananamt wrote on July 12, 2012.
"I thought California was the land of dreams until 'The Sherminator' served me sushi," user @hihough joked in February.
"Getting sushi and The Sherminator is our server. Only in L.A. folks. Super nice guy," another user echoed.
Chris has been acting since 1991 but shot to fame as Chuck Sherman in 1999's American Pie with the famous quotes: "I'm a sophisticated sex robot, sent back in time to change the future for one lucky lady."
According to IMDb.com, Chris has a movie in post-production called Off-Time in which he plays Ross the Cashier, and is rumored to currently be filming a movie called Stalker.
Would you say anything if you noticed the Sherminator serving you sushi? Sound off below...
youtube=https://www.youtube.com/watch?v=t8HkAFL0So4&w=560&h=315