Teresa Giudice Slams Family & Friends For 'Assuming The Worst Of Me' In Pitch For New Book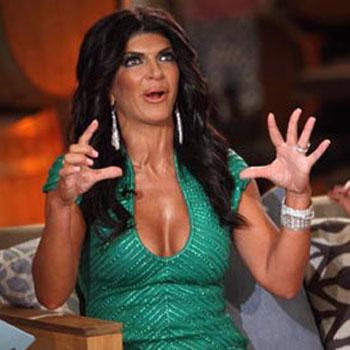 Real Housewives of New Jersey star Teresa Giudice revealed that she may write a new book titled 50 Shades of Black & Blue, targeting all the friends and family that she says have turned on her, and RadarOnline.com has all the details.
"I'm thinking of writing a new book about my life (since apparently writing four cookbooks doesn't count...). I'm going to call it 50 Shades of Black & Blue," Teresa announced Monday morning on her Bravo blog.
Article continues below advertisement
"In it, my own family members and friends I've had for 10 years turn on me. They hate me and hate on me like it's their full time job. They sit around every day talking about me non-stop, even when I'm not there. They talk and talk and talk some more about how obsessed I am with them. They bang their hands and wave napkins and cackle about how crazy I am."
Sarcastically exaggerating the constant drama in her life, Teresa continues to describe the book she calls fiction.
"My family hears about the rumors and blames me. I am to blame for everything: when their ex-bosses and ex-boyfriends talk about them, when their friends stop liking them, when their house and records and books don't sell. It is all my fault. Along with eclipses and the economy," she writes.
"It does hurt that my family always assumes the worst of me. It hurts when they call me names. It hurts when I see tabloids with the 'inside scoop' on my parents, my in-laws, and my marriage. But what can I do? Nothing because it's only fiction. Right?"
After plugging the books she's already written, Teresa gives a summary of them — but not without a slam to her family.
"I know most of you know this already," she writes. "But it sounds like some of my own family members haven't read my books, so here's a quick summary…"
Do you think Teresa's really writing another book, or was she just using it as a cover to make fun of her role on the hit Bravo show as one of the "most hated" cast members? Sound off below…