Exclusive
Teresa Giudice 'Running Scared': She's Afraid Her Back Stabbing Ways Are Catching Up To Her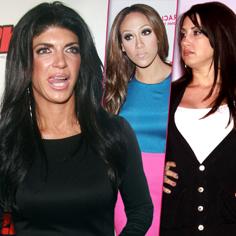 Teresa Giuidice has been the reigning Queen of Mean but RadarOnline.com has exclusively learned that she's afraid that all of her back stabbing, gossiping and devious plans are catching up with her and that she might finally be exposed as the mastermind behind all of the drama.
The Real Housewives of New Jersey star has been involved in a brutal battle with all of the women on the hit reality show, on camera and off, and sources close to the situation said that she has been scrambling lately to make sure that what goes on behind the scenes isn't revealed.
Article continues below advertisement
"Teresa has been running scared lately," the source said.
"She has been trying to keep it a secret that she has been the one who is stirring up all the drama and now so many people are turning against her that she's afraid she's going to be exposed."
Teresa's battles with Melissa and Joe Gorga, as well as Caroline Manzo and Jacqueline Laurita, are legendary but the source said that Teresa has been trying to hide how involved she is in the daily drama.
"Teresa is the one who loves getting the gossip and dirt about all of her family and friends and then she repeats it. The other women know that she is the one who is always behind the bad gossip that gets out there."
As the show continues, the source said that Teresa has become increasingly aware that people are turning on her and telling her enemies that she is the one who is spreading the gossip.
"Teresa's circle of friends is slowly diminishing and the people who feel like she has used them in the past are now revealing that they said bad things because Teresa encourage them to."
The Real Housewives of New Jersey airs on Bravo Sundays at 8/7c.