Exclusive
Ex-Husband To Tamra Barney: I'll Prove You Are Lying On Live TV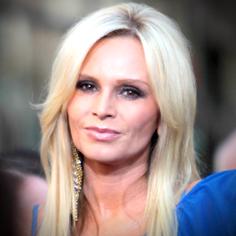 The war between Tamra Barney and her ex-husband Darren Vieth is escalating, with Vieth telling RadarOnline that he wants to confront her on TV and prove she's lying about him.
The Real Housewives of Orange County star went on a Twitter rampage against Vieth last week, claiming he was making up stories about her and being paid for it.
She then accused him of cheating on her during their marriage – with a man!
Article continues below advertisement
Now, a livid Vieth tells RadarOnline.com he wants to call in to Bravo's Watch What Happens Live on Monday, when Barney is scheduled to be one of the guests, and confront her on everything, in front of Andy Cohen.
"I have nothing to hide," Darren told RadarOnline.com. "Let's get to the bottom of it on the air.
"I'm more than happen to call out Tamra about her lies on TV."
Tamra claimed that Darren's charges she cheated on him were lies made up for money. He said that she distorts the truth around her first suicide attempt, which happened when they were still married, blames him, and doesn't own up to cheating on him.
"I want her to tell the truth. And I'm going to sue her for saying I cheated on her with a man," Vieth told RadarOnline.com.
And while Tamra also blamed him for being a bad dad, RadarOnline.com has obtained court papers showing she voluntarily gave up custody of their son Ryan to him in 1995.
Regarding her version of their marriage and how it contributed to her first suicide try, Darren said: "Tamra usually never tells the entire story, and this time is no different."