Exclusive
Trouble In The Big Apple! Sonja Morgan Flirts With Costar Aviva Drescher's Ex-Husband -- While Her Boyfriend Is Out Of The Country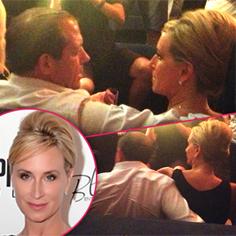 There may be some trouble next time The Real Housewives of New York City star Sonja Morgan sees her costar Aviva Drescher!
RadarOnline.com has exclusively obtained a series of photos of Morgan flirting up a storm with Drescher's ex-husband, Harry Dubin, at New York City's The Griffin on July 11, where the banking heiress was being honored by for her entrepreneurial spirit and involvement in the arts, entertainment and philanthropy.
Article continues below advertisement
"Sonja was sitting on Harry's lap right in front of Aviva," a source told us.
But according to Sonja, there was little in the rendezvous and she was just cuddling up next to him.
"Well, I wasn't right on top of his lap," Sonja told RadarOnline.com in an exclusive interview. "But I was definitely very comfortably ensconced with Harry. I wasn't on his lap — and Aviva was seated next to Harry."
Sonja doesn't deny flirting with Harry, though.
"I always flirt with Harry whether I am with a boyfriend or not," she joked. "We have a wonderful relationship!"
Sonja has a history with Harry and even dated him back in the late eighties and early nineties -- before he married Aviva.
"I met him in Washington D.C. at Café Milano," Sonja revealed. "He went to every hotel lobby calling to see which hotel I was staying in and invited me to go to a jazz bar. And then every other weekend, I would go to D.C. or he would come to NY to see me. We were doing that for a year."
Article continues below advertisement
And July 11 was perfect timing for Sonja to do a little flirting -- her 23-year-old boyfriend Benjamin Benalloul was missing in action at her party.
"Ben, well, I have no idea where he was Thursday night," Sonja told Radar.
"My intern Tyler sent him the invitation. When we were in Europe, he said he was going to be back sometime after July 4 weekend so I don't know where he was. He could still be in Europe for all I know."
Sonja hasn't heard from Ben, who she describes as her "soul mate," since before the event.
A source said: "Sonja tried to call him on July 18, but it went straight to voicemail."
According to Sonja, "He's over there in Europe working on expanding his real estate company to the South of France and he has no signal. He probably doesn't even know about the event because he doesn't read his emails."
But despite Ben's absence and lack of communication, Sonja insisted things were fine between them.
Article continues below advertisement
"No we're not broken up, but Ben goes off on these tangents in business," she reasoned. "I know he is starting a new company, so I know he's very much focused on that. We are still together. I just don't know if he's back or not back."
She added, "I don't need to speak to him every day to know that we're together."
And the Bravo reality star insisted she wasn't cheating on Ben with Harry — it was all just friendly fun.
"If Harry's with a girlfriend or I'm with a boyfriend, we don't cheat on our lovers," she said. "Harry's very elegant. I'm very loyal. We don't do that. That's not the way we operate."