Exclusive
Gone But Not Forgotten? Leah Remini Still Being Featured On Scientology Website!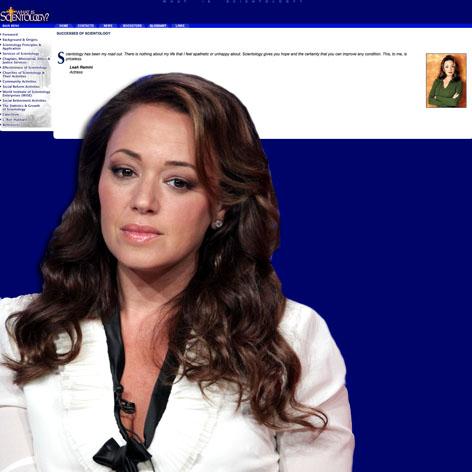 Even though Kings of Queen's star, Leah Remini has defected from the Church of Scientology, the actress is still being featured on a website of the organization, RadarOnline.com is exclusively reporting.
The Church of Scientology's website, What Is Scientology, features a quote from Lemini touting the success she has had because of the religion. "Scientology has been my road out. There is nothing about my life that I feel apathetic or unhappy about. Scientology gives you hope and the certainty that you can improve any condition. This, to me, is priceless," Remini is quoted as saying.
Article continues below advertisement
Other celebrities included on the website giving testimonials about their religion are Ann Archer, Lisa Marie Presley, Giovanni Ribisi, Jenna Elfman and Juliette Lewis.
Last week Remini issued a statement after the media reported she had bolted from the Church. "I wish to share my sincere and heartfelt appreciation for the overwhelming positive response I have received from the media, my colleagues, and from fans around the world. I am truly grateful and thankful for all your support," she said in the statement .
A rep from the Church of Scientology told us, " "The Church respects the privacy of parishioners and has no further comment. This is a page from the book, What is Scientology?"
As RadarOnline.com reported previously, Remini and her family made a pact that they would continue to interact and not let her leaving the church drive a wedge between them. The church often orders members to "disconnect" from friends, family and loved ones who leave Scientology.